German Dressage News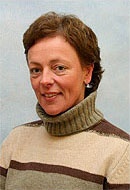 The silent exit of Dr. Björn Nolting as German official dressage team veterinarian has become even more apparent with the announcement of a new dressage team vet, Dr. Cordula Gather.
The German Equestrian Federation released this news on Wednesday 10 June 2009.
On 16th March 2009, the German FN issued a press release in which Dr. Bjorn Nolting announced his resignation as German show jumping team vet, following the major German doping scandals. Nolting stated that he wanted to remain vet for the German dressage team, but surprisingly one month later a not so much visible release surfaced in which the "horizontal promotion" of Nolting was mentioned. As of 30th April 2009, Nolting would no longer be dressage team vet but work with the DOKR in the performance physiology and fitness department.
The baton has changed hands and Dr. Cordula Gather has been appointed dressage team vet. "I'm confident that I can manage the job together with the riders, trainers and officials. This job is big challenge to me," said Gather.
The 46-year old Wuppertal born Cordula "Coco" Gather did her veterinary studies at the University of Hanover and specialised in reproduction. During her studies she was an auction rider in Verden. She has worked at the Celle state stud and since 1997 has been working at the Burg Müggenhausen Equine Clinic, which was founded by vets dr. Thomas Weinberger and Dr. Björn Nolting.
Following the doping scandal in Germany, medication control on German team horses has been increased. German team horses are not allowed to get any treatment without the knowledge of the team vet eight weeks before any championship. All nominated team horses get a check up on their medication shortly before a championships and the team vet needs to be notified of all administered substances before the travel to the championship. All German team horses have to have a medical logbook in which all medication is registered eight weeks before a show. The logbook is obligatory for all horses long listed for a championship.
Related Links
German Equestrian Sport in Crisis: All A and B Teams Suspended
Medals, Doping, Equestrian Sport - What will the Future be Like?
German Team Vet Björn Nolting Says Bye Bye to Jumpers