2009 World Championships for Young Dressage Horses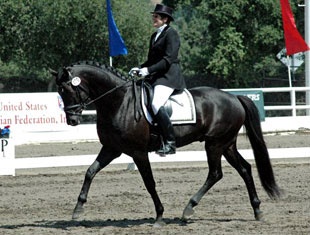 In the United States, the second selection trial for the 2009 World Young Dressage Horse Championships and 2009 American Young Dressage Championships took place at Dressage at Flintridge. Western based American young dressage horses had to travel and compete at Flintridge in their attempt to qualify for Verden and Chicago. Both the five and six-year old division were judged by Axel Steiner, Linda Zang, and Jayne Ayers. The Eastern trial is at Raleigh, the central was at Lamplight. The winners at Flintridge were San Shivago and Sandomere.
Louise Koch and San Shivago celebrated a victory in the 5-year old Dressage Horse division. Aboard her Sandro Hit x Donnerhall stallion, she scored 8.024 points with high scores in trot and canter. Koch discovered San Shivago in Germany when he was only 20 days under saddle. Sabine Schut-Kery and Adora's Radiant Heart, a Westphalian mare owned by Alice Womble, finished second with a total score of 7.872.
Merrie Velden and Holly Reimer's black stallion Sandomere (by Sandro Hit x Ramiro's Match) won the 6-year old Dressage Horse class with a combined score of 7.684. Jo Moran and Sandy Harper's Hanoverian mare Walking on Sunshine (by ) finished second with a 7.244 mark.
The United States is allowed to send two 5-year olds and two 6-year olds to Germany, but they have to obtain a national qualification score of 8.2 instead of last year's 7.8. Judges Axel Steiner and Jayne Ayers will be consistently judging at all three selection trials.
The USEF Young Horse Coach Scott Hassler recognizes that the higher score requirement has aroused controversy in the US. In an interview with Dressagedaily.com he stated, "it is so difficult for our young horses to travel that far. It is hard on them. I feel riders who are serious about this program should take it upon themselves to visit the World Championships and see firsthand the atmosphere and the type of horses that do well there."
Photo courtesy: Phelpsphotos.com
Related Link
Dressagedaily: Full Coverage at the Flintridge Western Young Horse Selection Trial
Back to the 2009 WCYH index