2009 Preis der Besten
The Rothenberger kids, Sönke and Sanneke, and Kirsten Sieber have won the 2009 Preis der Besten, a mid-season championships for German youth riders hosted at the DOKR centre in Warendorf, Germany, May 15 - 17, 2009.
The current European Pony Champion Sönke Rothenberger and his palomino licensed stallion Deinhard B (by Dornik B) were unbeatable in the FEI pony division. Sönke won round one with 75,278% which covered a full three percentage point advantage to second placed Florine Kienbaum's aboard Frederiksbergs Mozart, a pony owned by Sönke's aunt, Stephanie Rothenberger-Krause. In the Kur to Music finals, Rothenberger posted a record score of 78,83% to win the class (and the championship) ahead of Bianca Nowag on Der Feine Lord (by Dressman), who had placed sixth in the first round after a spook in canter. Kienbaum became reserve champion in the end ranking. She performed a freestyle to the music of her previous pony Going East.
"Sönke impressed with his expressive and very precisely ridden Kur," German pony chef d'equipe Connie Endres said. "Florine's kur did not fit 100% so it still needs a bit of work. I'm very happy with the performances of the riders, even though they are still not good enough for the European Championships. But the potential is there. We still have enough time to work at it."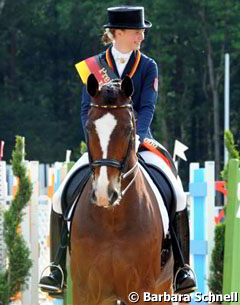 Sönke's older sister Sanne Rothenberger reigned supreme in the junior riders division. Aboard the 8-year old Oldenburg bred World Young Horse Champion Deveraux (by De Niro), Rothenberger won the first round with 72.432 % and the Kur with 77.550 % taking home the overall Junior Riders' title. With her European Junior Riders Championship gold medal winning horse Paso Doble (by Don Primero) she finished fourth overall.
"I had a few mistakes with Paso because I wasn't fully concentrated," the 16-year old Sanneke explained after her ride. Before each ride, Sanneke walks her test in the stable corridors. She calls this preparation method dry riding. "My father always did it like that and it works fine for me," said Sanneke. Her parents, Sven and Gonnelien Rothenberger, are her trainers. Sven helps her with Deveraux, Gonnelien with Paso Doble.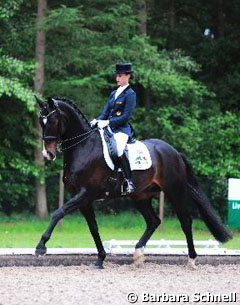 In the freestyle, Rothenberger tied on score with the second placegetter of round 1, 18-year old Louisa Luttgen on Habitus (by Hohenstein), who finished second overall. Habitus has been in the Luttgen family for the past 8 years and was first competed by elder sister Anna Katharina Luttgen. Louisa rode a brand new freestyle, which she became two days before the Preis der Besten, featuring a "dreamy" piano composition done a by a Dutch composer played. The Luttgen family are music lovers and players spearheaded by their grandfather who was a renowned Baroque oboist and professor at a music college. Louisa's number one horse Dreamy was not at the Preis der Besten. Charlott-Maria Schürmann finished third overall with the 16-year old Hanoverian stallion World of Dreams, which was supposed to be Michelle Gibson's Olympic hopeful for the 2004 Games in Athens.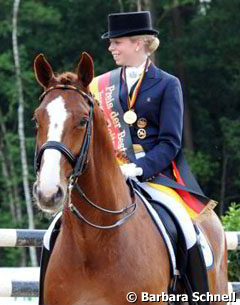 Dortmund based Kirsten Sieber left no doubt about it that she was the strongest rider in the young rider division at the 2009 Preis der Besten. Astride her chestnut 11-year old Holsteiner gelding Charly (by Chagallo x Calvadur), Sieber won round 1 with 71.368 % and the Kur with 75,9%. Both rides were mistake free. "For a while now I have been training with Klaus Balkenhol once or twice a week, focusing especially on the piaffe and passage tour. Charly has developed so much because of this. Since then the transitions and the difficult movements have become much easier," said the 20-year old Sieber, who is currently studying finance.
Twenty-year old Tom Berg presented two horses in the Preis der Besten and finished second with Diva Royal, a 7-year old mare (by Don Frederico x Warkant) he has been training himself for the past two years. "I used to ride on my own a lot in the past, but the last half year I have been training with Johann Hinnemann. It works well," said Berg, who is studying for a business degree while training dressage horses. Friederike Hahn and the chestnut Richard Lowenherz slotted in third.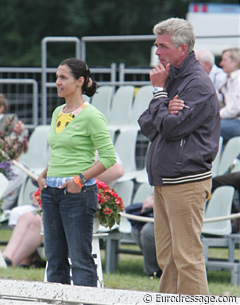 Junior and Young rider team trainer Hans-Heinrich Meyer zu Strohen was impressed by the rider's effective aids and current way of riding. "It was striking that the junior and young riders are riding younger horses more and more instead of relying on schoolmasters," said Meyer zu Strohen. "This is a joyful tendency and a sign that young horses are well trained and coached." The team trainer did notice that several junior riders performed less on the second day. "You shouldn't underestimate the pressure on their nerves," he explained.
Photos copyrighted: Barbara Schnell - Astrid Appels/Eurodressage
Related Links
Scores 2009 Preis der Besten
Qualificants for 2009 Preis der Besten Announced
Photo Report - 2008 Preis der Besten
Photo Report - 2007 Preis der Besten
Photo Report - 2006 Preis der Besten