2009 German Championships for Professional Dressage Riders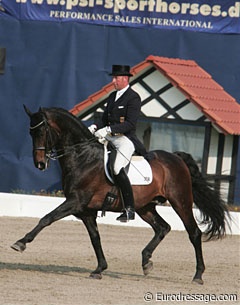 There was a one hour break after the Intermediaire I, enough time to eat a piece of junk food (chicken wrap), the first of many to follow as usual at horse shows.
With only five minutes to eat and fifty-five to talk and catch up with friends, time is essential and food not a priority (though a grumbling stomach is not much fun for yourself or the one sitting next to you in the stands). It was a good idea to fill up my tank on food because the next test that was going to take place was the first round in the 2009 German Championships for Professional Dressage Riders and it featured 30 riders. The class took five hours to complete and one got to see a group of riders with mixed quality horses
In fact, it was amazing that some riders presented such mediocre or below average horses in a Professionals' Championships. Sometimes you got to see 14 year old horses with less skills in Grand Prix than the Medien Cup upcoming Grand Prix horses. But the cream rose to the top. In the first round, Hartwig Burfeind took the lead aboard the 15-year old Swiss bred stallion Goofy de Lully (by Gauguin de Lully x USA) owned by the Swiss Anne Marie Sutter. He scored 69.106%.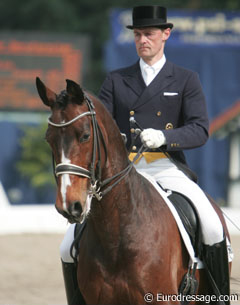 In the second round, Burfeind finished second with 69.542% and he won the finals with Horse Change, riding the two best tests with Cockney (72.222%) and Goofy (70.00%). Burfeind initially trained with Willi Schultheis and Herbert Rehbein and more recently with Holger Schmezer and Jean Bemelmans.
Johannes Augustin, who is regularly employed at Hof Kasselmann for the in-hand training of the horses, finished second in the Grand Prix (68.213%) and third in the overall championships.
Aboard his own 14-year old Polish warmblood gelding Norblin (by Cezar x Dido) Augustin landed a third place in the Special (68.000%). In the finals with horse change, he scored the highest with his own horse (68.944%) and got 68.722% for his ride on Cockney and 66.833% for his test with Goofy de Lully.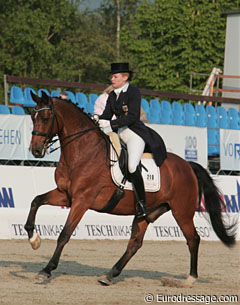 For 27-year old Sonja Bolz the 2008 German Profi Championships were the first in her career. Trained by Isabell Werth's stable manager Rocco di Pierro as well as Ralf Isselhorst and Bernd Schlüter, the blond Bolz made her move to Grand Prix level through the Piaff Forderpreis circuit (for young riders). With her trainer Dieter Laugks at the time, she acquired Nadine Capellmann's Bundeschampion Cockney. The now 18-year old Holsteiner gelding by Caretino x Corso has proven to be the dream schoolmaster for her. In Hagen, she won the bronze medal in the Profi Championship after a third place in the Grand Prix (68.085%), a first in the Special (69.833%) and a third in the finals. Her horse Cockney was the best performing mount under all three finalist riders.
Style note for Cora Jacobs and her Cassis, a 14-year old Hessian mare by Charly Chaplin x Blaubart xx. Despite this beautiful piaffe, there can be no more unflattering, downright ugly manestyle for a horse than the cut mare of Cassis and her one year younger full brother Cidre. These cut mane are old fashioned (think back to 2000 year old Greek and Roman statues of horses), unappealing and disfiguring to the looks and appearance of this horse. For mare Cassis it looks butch. Start growing and braiding those mane, please!!
Thursday's competition day ended with a wonderful riders' party sponsored by Medien Cup. A gorgeous VIP area was set up near the warm up ring for the riders, trainers, grooms and press, where they could chat and mingle while enjoying a delicious barbecue.
Back to the 2009 CDI Hagen Index