Danish Dressage News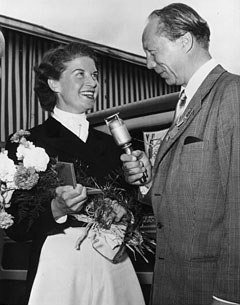 The Danish Olympic silver medal winning dressage rider Lis Hartel has passed away in her sleep during the night of February 12, 2009. The legendary dressage rider was 87 years old.
Hartel was the first woman to win an Olympic equestrian medal when she won silver at the 1952 and 1956 Olympics in dressage. She accomplished this feat despite being paralysed below the knees as a result of polio. She was trained by Gunnar Andersen.
In 1944 Hartel, then a 23-year-old pregnant mother, was paralysed by polio. Gradually she reactivated most of her muscles, although she remained paralysed below the knees and always needed help mounting and dismounting her horse. After three years of rehabilitation, she was able to compete in the Scandinavian riding championships and finished second in women's dressage. In 1952, she was chosen to represent Denmark in the Helsinki Olympics. Even though she had to be helped on and off her horse, she responded by earning the silver medal. Four years later, she won another silver medal in Stockholm in 1956.
After her own career as dressage rider, Lis Hartel was an active as trainer, coaching for instance former Olympian Bent Jensen and Nils Haagensen, the 1980 European Champion in Three Day Eventing and participant at the 1996 Atlanta Olympic Games in dressage. She was a dedicated supporter of horseback riding as physical therapy. She is widely credited with sparking the movement that led to the emergence of therapeutic riding schools throughout the world.
"With her death we have lost a great person, who loved her sport and inspired many people all over the world," the Danish Equestrian Federation told Eurodressage.
Related Link
Lis Hartel Celebrates 85th Birthday