Eurodressage Equimarket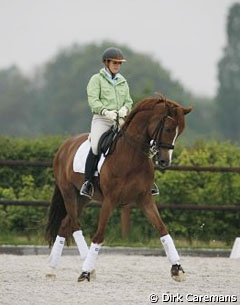 Internet is all about connecting people and making the world smaller. Eurodressage offers a set of promotion pages of ponies and horses for sale in our "Equimarket", a well visited section of the Eurodressage website.
Do you have a Top dressage horse or pony for sale or a young future prospect and you would like to have it advertised on our website which is visited by many equestrian enthusiats?
Advertising your Horse for Sale on Eurodressage
We create a custom-made sales ad for your horse or pony in which he is presented in detail, his performance record highlight and the owner contact info available at the bottom of the page. If your horse is being shown, we can update the page with its latest achievements and prizes.
Your sale page is tailor-made to your horse. The promotion page is of unrestricted length and will feature bloodline information, a variety of pictures, the horse's achievements, character, training info and much more. There is also a video clip is included in the entire advertisement.
Because of this complete package, your horse gets marketed in the most complete way to which a print magazine can never match.
Your ad will be featured on Eurodressage as well as its social media. Your horse will get seen, without a doubt
Price?
For 350 euro we advertise your horse for sale for 6 month listing. The horse will be visible on the Eurodressage front page through a thumbnail in a rotational system. You horse or pony will get exposure on the cover page throughout those 6 months at no additional cost!!
If you are interested in running an advertisement, please email us your horse/pony/foal's information including
Horse's Name
Breed
Date of Birth
Sire
Dam Sire
Gender
Height
Asking Price
Description of the horse
Contact info of the owner
Don't forget to email us your best photos and a video link. We will get in touch with you straight away about posting your horse for sale on Eurodressage!
Don't hesitate, Act Now!!
Mail us at info@eurodressage.com