2008 Spanish Youth Riders Championships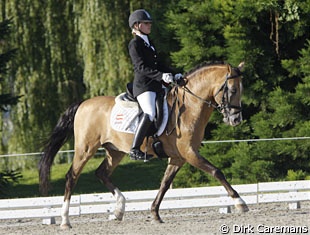 Ariadna Alvarez Pou, Laura Reija Belart and Carmen Naesgaard won the 2008 Spanish Dressage Championships for Youth Rider held at the Montenmedio Equestrian centre in Vejer de la Frontera, Spain, September 17-19, 2008.
FEI Pony rider Ariadna Alvarez Pou (pictured) won two of the three championship rounds with her pony CAVA Caiusbonus.com. She scored an average of 66,319% with her Welsh pony gelding and referred Alfonso Parra Rubio with Ropeter to the silver medal position (average: 65,326%). Lidia Jumilla Gallego and Rafunel got the bronze medal for their 64,663% score average.
In the junior riders division, Laura Reija Belart and her 8-year old chestnut Hanoverian gelding Flash (by Lanthan out of Waomi) won the first two rounds, but had to give way to Laura Mangado Salvatierra and her KWPN gelding Liguster (by Cabochon) in the individual test. Reija, who just returned from a summer training stint at Coby van Baalen's stable in The Netherlands, averaged an overall score of 68,883 which was good for gold. Mangado ended up with the silver (67,724%) while Estefanía Ríos Arias and Lord De Nicole finished in bronze medal position with 65,624%.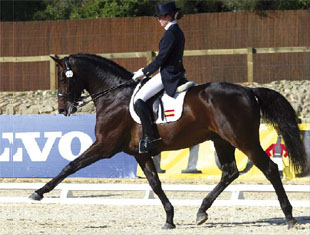 Undefeated young rider in Spain for many years now, Carmen Naesgaard Rodriguez recaptured the gold medal with her Hanoverian stallion Ciowa (by Cheenook out of Wanja) on an overall of 68,998%. The silver went to Ainhoa Prada Ortiz on his Hanoverian Double o Seven (by Davignon) with a 66,928% average. Danae Lara de la Cámara and her PSI auction horse Walz Of Flowers, a 15 year old Westfalian gelding by Weinberg x Paradox, slotted in third for bronze with 66,676%.
Photos copyrighted: Dirk Caremans - Katharina Braren/Top Iberian
Results
Pony Riders - Preliminary Test
1. Ariadna Álvarez Pou - Cava Caiusbonus Com - 67,25
2. Ollie Thomas Zabell - Wolkenfeuer - 67,1
3. Alfonso Parra Rubio - Ropeter - 66,35
4. Enrique Medina - Cotgreave Tirano - 64
5. Gina Riera Alba - Rania - 63,5
6. Lidia Jumilla Gallego - Rafunel - 62,8
7. Beatriz Robert Samper - Guajiro XXVI - 62,5
8. Arrate Gonzalez Bengoa - Rattador - 61,65
9. Marlene Mendiguchia Meuser - Donna Kara- 60,9
9. Alfonso Parra Rubio - Carlito - 60,9
11. Rebeca Lopez Macias - El Pantera - 59,75
12. Sonia Ramos Fadrique - Corino - 59,3
13. Claudia Peyghambari Weber - Topist K - 59,2
14. Erik Balasch González- Dorado - 58,7
15. Paula Casado Blazquez - Three Stars Valett - 52,05
Pony Riders - Team Championship Test
1. Ollie Thomas Zabell - Wolkenfeuer- 67,31
2. Lidia Jumilla Gallego - Rafunel - 65,78
3. Ariadna Álvarez Pou - Cava Caiusbonus Com- 65,15
4. Beatriz Robert Samper - Guajiro XXVI - 63,63
5. Alfonso Parra Rubio- Ropeter - 63,57
6. Gina Riera Alba - Rania - 62,94
7. Enrique Medina - Cotgreave Tirano - 62,68
8. Alfonso Parra Rubio - Carlito - 62,57
9. Claudia Peyghambari Weber - Topist K - 60,57
10. Rebeca Lopez Macias - El Pantera - 60,05
11. Sonia Ramos Fadrique - Corino - 59,52
12. Arrate Gonzalez Bengoa - Rattador - 59,05
13. Marlene Mendiguchia Meuser - Donna Kara - 58,63
14. Erik Balasch González - Dorado - 58,57
15. Paula Casado Blazquez - Three Stars Valett -54
Pony Riders - Individual Test
1. Ariadna Álvarez Pou - Cava Caiusbonus Com - 66,55
2. Alfonso Parra Rubio- Ropeter - 66,05
3. Lidia Jumilla Gallego - Rafunel - 65,4
4. Beatriz Robert Samper - Guajiro XXVI - 65,3
5. Gina Riera Alba - Rania - 63,75
6. Arrate Gonzalez Bengoa - Rattador - 62,2
7. Enrique Medina - Cotgreave Tirano - 61,8
8. Marlene Mendiguchia Meuser - Donna Kara- 61,7
9. Sonia Ramos Fadrique - Corino - 61
10. Claudia Peyghambari Weber - Topist K - 60,65
11. Erik Balasch González - Dorado- 60,2
12. Rebeca Lopez Macias - El Pantera - 59,2
13. Paula Casado Blazquez - Three Stars Valett - 58,3
2008 Spanish Pony Championship
1. Ariadna Álvarez Pou - Cava Caiusbonus Com - 66,319
2. Alfonso Parra Rubio - Ropeter - 65,326
3. Lidia Jumilla Gallego - Rafunel - 64,663
4. Beatriz Robert Samper - Guajiro XXVI - 63,811
5. Gina Riera Alba - Rania - 63,399
6. Enrique Medina Cotgreave - Tirano - 62,828
7. Arrate Gonzalez Bengoa - Rattador- 60,968
8. Marlene Mendiguchia Meuser - Donna Kara - 60,411
9. Claudia Peyghambari Weber - Topist K- 60,143
10. Sonia Ramos Fadrique - Corino - 59,942
11. Rebeca Lopez Macias - El Pantera - 59,668
12. Erik Balasch González - Dorado - 59,16
13. Paula Casado Blazquez - Three Stars Valett - 54,783
Junior Riders - Preliminary Test
1. Laura Beatriz Reija Belart - Flash - 68,8
2. Laura Mangado Salvatierra - Liguster - 66,97143
3. Laura Beatriz Reija Belart - Recuerdo - 66,57143
4. Estefanía Ríos Arias- Lord De Nicole - 65,77143
5. Lisanne Van Dijk - Foreign Miracle - 64,4
6. María Gómez Guzmán - Expresivo IV - 64,05714
7. Carmen Alanis Espigares - Capriciose - 63,82857
8. Laura Aragones Ribera - Oronijke - 63,02857
9. Carmen Alanis Espigares - Espia - 62,85714
10. Natalia Ametller Planas - Cava Suao - 62,74286
11. Stefanie Gnucci Fernández - Hero- 62,4
12. Javier Parejo Coleto - Crescendo - 61,94286
13. Laura Gantes Cabaño - Nobody Is Perfekt - 61,14286
14. Cristina Rocafort Cirac - Royal Highness - 60,85714
15. Isabel Ruiz López- Don - 59,25714
16. Teresa Henriques-Gil - Lissabone - 58,85714
17. Manuel Dominguez Bernal - Ringelnatz - 56,97143
Junior Riders - Team Championship Test
1. Laura Beatriz Reija Belart - Flash - 69,45
2. Laura Beatriz Reija Belart - Recuerdo - 67,85
3. Laura Mangado Salvatierra - Liguster - 67,65
4. Estefanía Ríos Arias - Lord De Nicole - 66,5
5. Laura Aragones Ribera - Oronijke - 66,2
6. Lisanne Van Dijk - Foreign Miracle - 65,05
7. Carmen Alanis Espigares - Espia - 63,8
8. María Gómez Guzmán - Expresivo IV - 63,35
9. Javier Parejo Coleto - Crescendo - 62,35
10. Isabel Ruiz López - Don - 62,15
11. Stefanie Gnucci Fernández - Hero - 61,9
11° Natalia Ametller Planas - Cava Suao - 61,9
13. Laura Gantes Cabaño - Nobody Is Perfekt 61,15
14. Cristina Rocafort Cirac - Royal Highness - 60,05
15. Teresa Henriques-Gil - Lissabone - 59,2
16. Carmen Alanis Espigares - Capriciose - 59,15
17. Manuel Dominguez Bernal - Ringelnatz - 54,25
Junior Riders - Individual Test
1. Laura Mangado Salvatierra - Liguster - 68,55
2. Laura Beatriz Reija Belart - Flash - 68,4
3. Laura Aragones Ribera - Oronijke- 66,2
4. Carmen Alanis Espigares - Espia - 64,75
5. Estefanía Ríos Arias - Lord De Nicole - 64,6
6. María Gómez Guzmán - Expresivo IV - 63,1
7. Stefanie Gnucci Fernández - Hero - 63,05
8. Isabel Ruiz López - Don - 62,95
9. Natalia Ametller Planas - Cava Suao - 61,95
10. Javier Parejo Coleto - Crescendo - 61,65
11. Cristina Rocafort Cirac - Royal Highness - 60,85
12. Laura Gantes Cabaño - Nobody Is Perfekt - 60,15
13. Teresa Henriques-Gil - Lissabone - 60
14. Manuel Dominguez Bernal - Ringelnatz - 56,05
2008 Spanish Junior Rider Championship
1. Laura Beatriz Reija Belart - Flash- 68,883
2. Laura Mangado Salvatierra - Liguster - 67,724
3. Estefanía Ríos Arias - Lord De Nicole - 65,624
4. Laura Aragones Ribera - Oronikje - 65,143
5. Carmen Alanis Espigares - Espia - 63,802
6. María Gómez Guzmán - Expresivo IV - 63,502
7. Stefanie Gnucci Fernández - Hero - 62,45
8. Natalia Ametller Planas - Cava Suao - 62,198
9. Javier Parejo Coleto - Crescendo - 61,981
10. Isabel Ruiz López - Don - 61,452
11. Laura Gantes Cabaño - Nobody Is Perfect - 60,814
12. Cristina Rocafort Cirac - Royal Highness - 60,586
13. Teresa Henriques-Gil - Lissabone - 59,352
14. Manuel Dominguez Bernal - Ringelnatz - 55,757
Young Riders - Team Championship Test
1. Carmen Naesgaard Rodríguez-Passolas - Ciowa - 67,64
2. Danae Lara de la Cámara - Walz Of Flowers- 65,77
3. Meritxell Vidal Tixis - Management - 65,02
4. Ainhoa Prada Ortiz - Double o Seven - 64,53
5. Carlos del Castillo Charlán - Weltina - 64,04
6. Severo Jurado Lopez - Rmr Civitas - 63,95
7. Daniel Martin Gomez - Niron - 63,77
8. Ariana Pfaff Ganduxer - Moreno-Wing - 63,68
9. Julia Soriano Valor - Startrek - 63,42
10. Lucía Barros Eiroa - Uzes - 62,93
11. Edgar Gutierrez Pérez - Denver - 62,577
12. Anna Huguet Miguel - Ledijn V - 58,97
Young Riders - Prix St Georges
1. Carmen Naesgaard Rodríguez-Passolas - Ciowa - 67,55
2. Ainhoa Prada Ortiz - Double o Seven - 66,8
3. Severo Jurado Lopez - Rmr Civitas - 66,4
4. Danae Lara de la Cámara - Walz Of Flowers - 65,65
5. Julia Soriano Valor - Startrek - 65,6
6. Carlos del Castillo Charlán - Weltina - 64,15
7. Edgar Gutierrez Pérez - Denver - 63,85
8. Lucía Barros Eiroa - Uzes - 63,7
9. Daniel Martin Gomez - Niron - 62,85
10. Ariana Pfaff Ganduxer - Moreno-Wing - 62,7
11. Meritxell Vidal Tixis - Management - 61,7
12. Anna Huguet Miguel - Ledijn V - 60,7
Young Riders - Kur to Music
1. Carmen Naesgaard Rodríguez-Passolas - Ciowa - 71,8
2. Ainhoa Prada Ortiz - Double o Seven- 69,45
3. Danae Lara de la Cámara - Walz Of Flowers - 68,6
4. Severo Jurado Lopez - Rmr Civitas - 67,2
5. Julia Soriano Valor - Startrek - 66,3
6. Meritxell Vidal Tixis - Management - 66,05
7. Carlos del Castillo Charlán - Weltina - 65,8
8. Edgar Gutierrez Pérez - Denver - 64,95
9. Daniel Martin Gomez - Niron - 64,45
10. Ariana Pfaff Ganduxer - Moreno-Wing - 64,25
11. Lucía Barros Eiroa - Uzes - 62,45
12. Anna Huguet Miguel - Ledijn V- 61,7
2008 Spanish Young Riders Championship
1. Carmen Naesgaard Rodríguez-Passolas - Ciowa - 68,998
2. Ainhoa Prada Ortiz - Double o Seven - 66,928
3. Danae Lara de la Cámara - Walz Of Flowers - 66,676
4. Severo Jurado Lopez - Rmr Civitas - 65,852
5. Julia Soriano Valor - Startrek - 65,107
6. Carlos del Castillo Charlán - Weltina - 64,665
7. Meritxell Vidal Tixis - Management - 64,257
8. Edgar Gutierrez Pérez - Denver - 63,793
9. Daniel Martin Gomez - Niron - 63,693
10. Ariana Pfaff Ganduxer - Moreno-Wing - 63,546
11. Lucía Barros Eiroa - Uzes - 63,028
12. Ana Huguet Miguel- Ledijn V - 60,459
Score courtesy: Ecuestre Online
Related Links
Juan Matute, 2007 Spanish Dressage Champion
Rafael Ortiz, 2006 Spanish Dressage Champion
Jimenez Wins 2005 Spanish Dressage Championships in Home Town 
Ferrer-Salat, 2001 Spanish Dressage Champion