2008 British Dressage Championships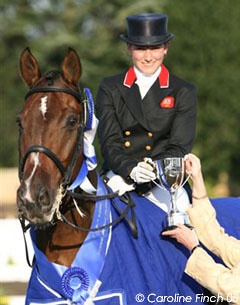 The final day of the 2008 British Dressage Championships at Stoneleigh Park took an unexpected turn when news came through that the 2005 National Champion Laura Bechtolsheimer would be unable to compete in the grand prix freestyle.
Laura had won the previous day's grand prix with her relatively new ride, Andretti H, and was the odds-on favourite to win the freestyle and thereby regain the national crown. However, it was not to be as her horsebox was stuck in traffic on the M5 following a major pile-up. Even a police escort was unable to help as so many cars had broken down on the hard shoulder in the heat.
This left the door open for Olympic reserves Maria Eilberg and the 14-year-old Two Sox (main picture), third in the grand prix, to retain their freestyle title with 73.9% and become the 2008 National Champions.
Maria said: "I am devastated for Laura, but it gave me a little bit of breathing space. She is a close friend and has been great, even watching me in the warm-up today. Two Sox came into himself in Hong Kong [they were travelling reserves for the Olympics] and has been on fantastic form since."
Maria then reduced some of the audience to tears when she announced that she was giving her prize, an all-inclusive holiday to the Blue Waters Hotel in Antigua, to her parents.
"I am giving this holiday to my mum and dad as they have done so much for me. Mum did not go to Hong Kong as she was holding the fort, so this means they can spend some time together," said the 24-year-old rider, who also announced that she is starting a new job in a pub next week and intends to go back to college to do a cookery course. "I wouldn't be without horses for anything in the world, but every year I think 'I must get a job'."
None of the European based British riders (Bigwood, Hindle, Channon) nor Olympic team member Jane Gregory, nor 2006 British Champion Sandy Phillips, were entered for the National Championships.
Carl Hester and T Movistar win the 2008 British Small Tour Championships.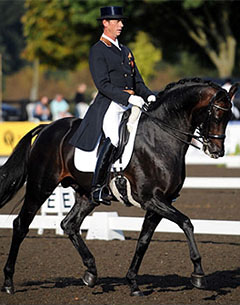 Carl and Sarah Tyler-Evans' eight-year-old TMovistar proved unbeatable once again, winning their third title of the show plus the supreme intermediaire championship. Carl was airing his new Spanish freestyle music for the second time; the first was at the recent BD Young Horse & Breeding Championships. It was created for Yvonne Losos de Muniz, a medal winning rider from the Dominican Republic, who had used it for four years and Carl swopped it with music he had used for eight years.
T Movistar is quite a popular breeding stallion in the U.K. having covered more than 50 mares this season. The black stallion is by Jazz out of Janny (by Chronos) and is bred by G. Gijsbers from The Netherlands.
Nicky Barrett and Faberge Win Intermediaire II Championship
Former national champion Nicky Barrett has competed the nine-year-old 16.1hh Hessen approved stallion by Fidermark sparingly and has never been placed lower than second in England in the three years that she has had the ride on the consortium-owned horse.
They swept the board in the small tour at the Hickstead CDIO in July. Their past successes include being reserve PSG champions here last year and winning the advanced medium title in 2006.
Photos and text courtesy: British Dressage
Top photo copyrighted: Caroline Finch
Check out the IMAGE GALERY below
Show Results Grand Prix Championship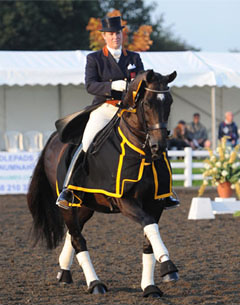 Grand Prix
Bechtolsheimer, Laura - Andretti H - 70.29% 1
McGivern, Nicola - Active Walero - 70.00% 2
Eilberg, Maria - Two Sox - 69.42% 3
Harvey, Judy - Fitzcerraldo - 67.67% 4
Jourdain, Nicola - St Swithens - 66.29% 5
Barrett, Richard - Alcatraz - 66.17% 6
Hughes, Gareth - Nurejev - 66.13% 7
Attlee, Kate - Teutone Z - 66.00% 8
Lister, Jodie - Nicky - 65.71% 9
Elmslie, Sarah-Jane - Wellington Masterplan - 64.17% 10
Assouline, Mette - Enzian - 62.82% 11
Rawlins, Dane- Sydney - 62.58% 12
Bevan, Jackie - Donner Dancer - 61.71% 13
Weiss, Angela - No Limit 5 - 61.13% 14
Atkins, Tina - Swayze II - 60.71% 15
Cuypers, Carl - Monet - 56.33% 16
Kur to Music
Eilberg, Maria - Two Sox - 73.90% 1
McGivern, Nicola - Active Walero - 72.90% 2
Harvey, Judy - Fitzcerraldo - 70.80% 3
Lister, Jodie - Nicky - 70.20% 4
Jourdain, Nicola - St Swithens - 68.45% 5
Elmslie, Sarah-Jane - Wellington Masterplan - 67.90% 6
Barrett, Richard - Alcatraz - 66.35% 7
Attlee, Kate - Teutone Z - 66.25% 8
Weiss, Angela - No Limit - 64.45% 9
Rawlins, Dane - Sydney - 62.75% 10
Atkins, Tina - Swayze II - 62.25% 11
Photos © British Dressage and Caroline Finch
Related Links
Harris, Bates, Cartwright, 2007 British Youth Rider Champions
Sandy Phillips and Lara, 2006 British Grand Prix Dressage Champions
Photo Report - 2005 British Championships
Nicky Barrett Claims Her First British Grand Prix Champion's Title