2008 Bundeschampionate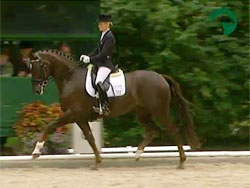 Furst Khevenhuller won the qualification class for 6-year old dressage horses at the 2008 Bundeschampionate in Warendorf, Germany, today. The Rhinelander gelding (by Florestan x Rohdiamant) and Helen Langehanenberg made a power move, winning the class with an 8.6 total score.
Bred by Wolfgang and Beate von Ameln and owned by the Austrian Sissy Max-Theurer, Furst Khevenhuller excelled in trot in his superb suspension and push off the ground. His trot was dynamic and smooth in rhythm, even though it gets a bit quick in the extensions. Walk is simply good, but the 4-beat rhythm could be more clear. The liver chestnut gelding performed a good rein back, which proves to be a difficult movement for many 6-year olds in the qualifier.
FK's canter work is convincing in its uphill tendency, even though the flying changes are not as fluent as they could be. The second change was in two phases with the rider giving strong aids and throwing the horse in the other lead). The third flying change was ok, but the horse leaned into the bit. fourth similar. The extended canter was powerful. Furst Khevenhuller, who was last year's 5-year old Bundeschampion, scored 9.0 for trot and canter, 8.0 for submission, and 8.5 for walk and general impression.
Nicole Casper and Alassio's Boy were the first pair to go and were in the lead for a very long time. The gorgeous Bavarian bred licensed stallion (by Alassio x Heraldik xx) was the reserve Bundeschampion as a youngster and is now making his marks as a matured dressage horse. The pair dazzled in their lightness and smoothness and scored 8.4.
Two horses tied in third place on a score of 8.3 and those were Dante and Waioni. Ingrid Klimke rushed from the eventing fields to the dressage ring to warm up and show the Oldenburg stallion Dante (by Diamond Hit x Beach Boy) owned by the Russian Juri Romanov. Dante looks plain in trot, with limited shoulder freedom and not enough suspension, but he moves with much cadence. The walk was ground covering. What Dante lacks in trot, he makes up for in canter. The hindleg is active and he covers ground. Dante must have benefit in points from the ease and relaxation with which Klimke steered him through the test. They scored 8.0 for trot, 8.5 for walk, 8.0 for canter and 8.5 for submission and general impression. Mareike Mondrowski and the Hanoverian gelding Waioni (by Waikiki) achieved the same total. The horse has a superb trot: great rhythm and energy from behind, but lacks a bit of suppleness in the canter.
Back to the 2008 Bundeschampionate index