2008 Olympic Games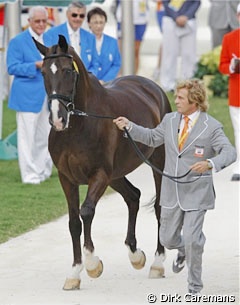 The veterinary inspection for the dressage horses competing at the 2008 Olympic Games in Hong Kong passed well except for one horses. All horses appeared fit in front of the judges panel and FEI head veterinary Leo Jeffcott.
The Dutch and German horses looked top fit, but one horse, the Brazilian Lusitano stallion Nilo Vo, had to go to the holding box and will reappear in a vet check tomorrow morning.
The jog took placed on hard surfaced covered with a small layer of sand. 47 of 48 horses passed, including all the reserve horses. The Dutch horses arrived fresh and fit to the jog. Team coach Sjef Janssen had to take huge steps to keep up with a very energetic Salinero who "was piaffing and passaging in hand" before the jog, according to Dutch reporter Van Andel.
Dutch press representative Jacob Melissen reported that even Dutch reserve horse Parzival (by Jazz) looked in shape in hand of Adeline Cornelissen. "For her the Olympic Games are over now," Melissen wrote. "Cornelissen came along as the reserve and would only step in, if one of the three selected team horses were to drop out. This is not necessary, which means that the first Olympic Games for Cornelissen were limited to one minute."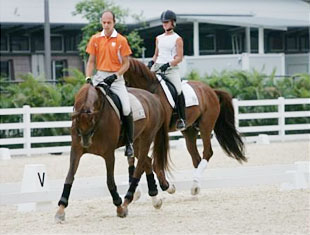 Dutch team trainer Sjef Janssen is also well prepared for the Games. "The horses are top fit. The stabling is fine and all the other circumstances are excellent, even though we could have wished for more schooling rings. It's nice that we were able to train so much in the main ring. There still are a few wishes, like the removal of the video screen, but if we will jointly succeed in that, we'll have to wait for it," said Janssen.
The German and American team horses were also in excellent shape. Isabell's Satchmo very extremely frolicky for the jog and she had to do her best to quiet him down. The Germans are focussing themselves no on reclaimed team gold and take that as their number one priority.
"First we have the team championships and only then we look beyond that," said Isabell Werth, who is not visualising an individual medal just yet. To the Germans, the high temperatures of above 30 ° C and the 80% humidity have not caused for any problems. "Our horses have customized themselves optimally to the climate and are all ready," team trainer Holger Schmezer commented.
Two horses were sent to the holding box. The Portuguese Carlos Pinto had to go to the holding box with Notavel Puy de Fou for 15 minutes, but passed after a second run. Brazilian Roger Clementino will have to reappear on Monday for re-inspection. His Lusitano stallion Nilo Vo was unlevel.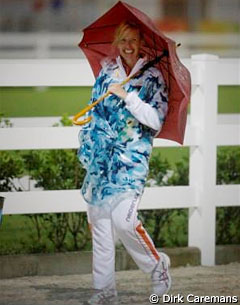 The draw for the starting order will be on Tuesday, the Grand Prix will start on Wednesday. The Team Championship will be spread out over two days, with one group of riders going on Wednesday, the other on Thursday. The Netherlands has decided its order of go. Hans Peter Minderhoud will be the first rider to go. If two riders go on Wednesday, it'll be Hans Peter and Imke. "If two Dutch riders are drawn for Thursday, Anky will go as second rider and Imke as third," confirmed Janssen.
As only three riders make up a team now, following an FEI rule change, there will be no scratch score. The team competition is supposed to be streamed live on the internet by NBC Olympics.
Photos copyrighted: Dirk Caremans
Back to the 2008 Olympic Index