2008 Bundeschampionate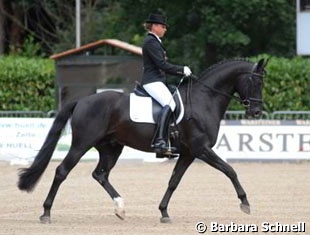 Dorothee Schneider and the black beauty Florinero and Lydia Camp and Kasimir were the winners of the Bundeschampionate Qualifier in Wickrath, July 11-13, 2008.
Aboard Sven Rothenberger's Hanoverian stallion Florinero (by Furst Heinrich), Schneider scored 8.0 in the 5-year old Dressage Horse Class and was the sole combination in the class to obtain a ticket to Warendorf. Luxembourg dressage rider Pascale Sax placed second with the Trakehner bred In Vita (by Buddenbrock) on a score of 7.3.
In the 6-year old Dressage Horse division, Lydia Camp reconfirmed her qualification by achieving yet another qualification score aboard Kasimir, a Trakehner branded Ivernel offspring. She scored 8.2. Last year's winner of the Bundeschampionate Bärbel Förster-Henrich placed second with a new horse Wincenta. The Westfalian bred mare by World Magic scored 7.60.
Eurodressage correspondent Barbara Schnell was in Wickrath to shoot photos of the Bundeschampionate classes as well as the Grand Prix and Nurnberg Burgpokal qualifier. See her photos below.
Check out the IMAGE GALLERY at the bottom of the page
Results
5-year old Dressage Horses
1. Florinero - Schneider, Dorothee - 8.00
2. In Vita - Sax, Pascale - 7.30
3. Wolle Wolkenstein - Straeten, Kristina - 7.10
4. Otto's Welthit OLD - Zagers, Thomas - 7.00
5. Krack - Bouten, Matthias - 6.90
5 High Clazz Firfod - Schneider, Dorothee - 6.90
7. Mabel - Skarsoe, Fie Christine - 6.70
8 Amicelli Gold vF - Henschke, Miriam - 6.60
8 Fila - Russel, Wynn - 6.60
10 Eva - Veerbeek, Katrin - 6.40
11 Aurelia - Weston, Peter John - 6.30
6-year old Dressage Horses
1 Kasimir - Camp, Lydia - 8.20
2 Wincenta - Förster-Henrich, Bärbel - 7.60
2 Highlander - Schneider, Dorothee - 7.60
4 Emantino - Peeters, Carsten - 7.40
4 Renaldo Renaldini - Reisch, Christian - 7.40
6 Mayong - Camp, Katja - 7.20
7 Die oder Keine - Keersmaekers, Tim - 7.10
8 Flovino - Wolf, Stefanie - 7.00
9 Fazzino 2 - Unger, Anke - 6.90
10 Fifty-Fifty - Etienne, Georg - 6.70
10 Schneekoppe Dot Com - Lürsen, Just Michael - 6.70
12 Whinni-Pooh - Nöthen, Bernd - 6.30
Wise-Guy- Unger, Anke - DNS
Back to the 2008 BuCha Index