Trakehner Breeding News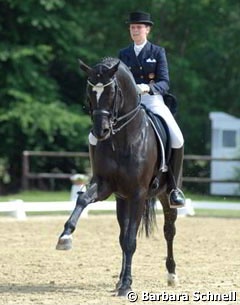 The renowned licensed Trakehner stallion Latimer has been castrated following an inguinal l hernia. The 12-year old gorgeous black stallion had to be immediately gelded and is now only available via frozen semen.
The stallion also went lame and rider Theresa Wahler lost her spot on the German Young Riders Team.
Latimer (by Saint Cloud x Caprimond x Sokrates.) is born in 1996 and got licensed in Neumunster in 1998. He placed third in the Stallion Performance Test in Adelheisdorf, Germany. In 2000, he became the German Young Horse Champion as a 4-year old under Hans Jurgen Armbrust. He then disappeared from the show scene to reappear years later under Nuno Palma de Santos and as a small tour horse with the owner's daughter Theresa Wahler. The pair finished third at the 2005 and 2008 Preis der Besten and made it on the 2008 German Young Riders Team.
Unfortunately, due to lameness of the stallion, they were replaced by Ann Kirsten Dornbacht on Gryffindor just days before the departure to the 2008 European Young Riders Championships in Portugal.
Latimer's has several licensed offspring, the most famous ones are Hibiskus, Karolinger I and II. Owner Eugen Wahler of Klosterhof Medingen was not available for comment on Latimer's condition.
Related Links
Scores of the 2008 European Young Rider Championships
Scores of the 2008 Preis der Besten
Latimer Keeps the Trakehner Flame Alive
Trakehner Stallion Saint Cloud Sold to Denmark