2008 European Junior and Young Riders Championships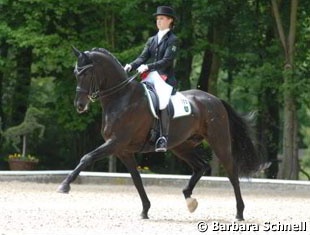 Following a rainy final selection trial for German junior and young riders in Warendorf, the German Equestrian Federation announced the Junior and Young riders that will represent Germany at the 2008 European JR/YR Championships in Azeitao, Portugal, July 14-20, 2008.
Big absentees at the trial were Friederike Hahn with Richard Lowenherz (injured) and Jill de Ridder on FBW Disco Boy.
Especially this year's German junior riders team will prove to be a tough competitor to beat. The German young riders' team does not have that charismatic dominance it used to have years before and they will need to put up a very tough fight against the Dutch if they want to win team gold.
The German Junior Riders team includes:
Louisa Luttgen - Dreamy and Habitus
Thea Felicitas Muller - Highway
Esther Rolfs - Rewano
Sanneke Rothenberger - Paso Doble and Devereaux OLD
Reserve:

Nicola Krause - Mitchell
Svenja Peper - Carlo Carlucci
The German Young Riders team includes:
Lina-Sophie Böckmann - Wolkenstein III
Kathleen Keller - Wonder FRH and Florestan
Kirsten Sieber - Charly
Theresa Wahler - Latimer
Reserve:

Ann-Kristin Dornbracht - Gryffindor
Katharina Winkelhues - Weltmelodie or Rubina
Photos from the final Warendorf selection trial
Sanneke Rothenberger on Paso Doble

Esther Rolfs on Rewano

Louisa Luttgen on Dreamy

Louisa Luttgen on Habitus

Thea Felicitas Muller on Highway
Back to the 2008 ECJYR Index