2008 Bundeschampionate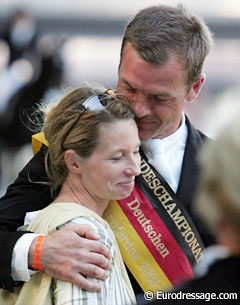 Super scores were achieved by the 5 and 6-year old dressage horses in the Bundeschampionate qualification classes held at the 2008 Bremen Dressage Championships in Bremen-Obernau, June 6-8, 2008.
Donna Weltina and Revanche de Rubin OLD scored in the high eightees and each won in a field of 16 horses.
PSI head sales manager and multiple Bundeschampion Ulf Möller dominated the 5-year old Dressage Horse division aboard Donna Weltina. The dark bay Hanoverian mare by Don Frederico x Weltruhm scored 8.6 under Möller. The elegant beauty was previously competed by Eckhart Wrede and is now part of the PSI Auction collection to be sold at the auction in December 2008. The petite Julia Katharina von Platen placed second on Flamenco Girl with 8.5, followed by Juliane Brunkhorst on Donnerstag with 8.4.
Three more 5-year olds scored 8.0 or higher: Britta Baumgart got 8.2 on Burlington (Breitling x Rohdiamant), and PSI riders Insa Hansen and Ulf Möllers 's wife Eva Möller scored 8.1 and 8.0 on the 2008 PSI Auction horse Wyllow L (by Wolkentanz x Don Primero) and on the American owned former PSI horse Reggea Ann (by Rotspon x Matcho AA).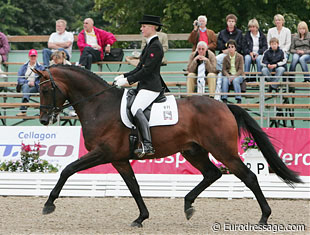 The 25-year old Juliane Brunkhorst won the 6-year old division aboard her 2007 World Championship silver medal winning horse Revanche de Rubin OLD (by Rubin Royal x Landadel). She scored an impressive 8.7 mark with the Oldenburg stallion and finished well ahead of second placed Insa Hansen on former PSI auction horse Rossano R (Rohdiamant x Weltmeyer) with 8.3. Celle State Stud rider Wolfhard Witte and the Celle owned stallion and Hanoverian Licensing Champion Dancier (by De Niro) placed third with 8.2.
Photos copyrighted: Astrid Appels/Eurodressage.com
Results
5-year old Dressage Horses
1. Ulf Möller - Donna Weltina - 8.60
2. Julia-Katharina von Platen - Flamenco Girl - 8.50
3. Juliane Brunkhorst - Donnerstag - 8.40
4. Britta Baumgart - Burlington - 8.20
5. Insa Hansen - Wyllow L - 8.10
6. Eva Möller - Reggae Ann - 8.00
7. Jan-Dirk Gießelmann - Diamantini - 7.90
7. Wiebke Borchers - Roberto - 7.90
9. Julia-Katharina von Platen - Del Piera - 7.80
10. Sandra Frieling - Dona Negra - 7.60
11. Ines Westendarp - De Petite - 7.50
11. Maxi Kira von Platen - Donna-Rubina- 7.50
11. Miriam Stradtmann - Prinz Poldi - 7.50
11. Sylla Holtkamp-Endemann - Dolores W- 7.50
15. Monika Stärk - La Bonita G - 7.40
15. Erik Bültjer - La Festa - 7.40
6-year old Dressage Horses
1. Juliane Brunkhorst - Revanche de Rubin OLD - 8.70
2. Insa Hansen - Rossano R - 8.30
3. Wolfhard Witte - Dancier - 8.20
4. Ilsemarie Berkenbusch - Miss Golightly - 8.10
5. Birgit Wellhausen-Henschke - Don Auriello - 8.00
5. Jörn Kubelke - Lauries As - 8.00
7. Ines Reyer - Continence - 7.90
7. Ulf Möller - Luxor - 7.90
9. Wolfhard Witte - Londontime - 7.60
10. Bettina Uhlig - Capriciella - 7.50
10. Peter Koch - Daintree - 7.50
10. Jan-Dirk Gießelmann - Laokoon B - 7.50
13. Dora Schomerus - Coronado-K - 7.30
13. Ellen Bodenkamp - Ludwig - 7.30
15. Erik Bültjer - Wisdom - 7.20
15. Christina Pantzar - Freestyle - 7.20