2008 Olympic Games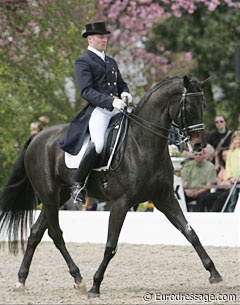 Belgian Grand Prix rider Jeroen Devroe will not be going to the 2008 Olympic Games in Hong Kong. His 14-year old Rhinelander branded Paganini (by Pavarotti van de Helle x Sheyenne de Baugy) sustained a tendon injury right after the CDI Hagen and will not be fit in time for the Games.
The Belgian Equestrian Federation requested Devroe to compete at the 2008 CDI Hagen and finish in the top eight in the Grand Prix to obtain a qualification score for the Olympic Games. Devroe and Paganini scored 67.458% and finished third. An individual berth at the 2008 Olympic Games was now within reach for the Belgian duo.
Unfortunately, the dark bay gelding retured from Germany with a strained tendon which will not have healed in time for the Olympics. Consequently, Devroe decided to withdraw from Olympic selection.
"We had to go through a very heavy selection procedure to qualify to the Olympics. And that was my biggest fear," Devroe told the Dutch magazine De Hoefslag. "The injury is not so bad but it implies a set back in Paganini's fitness. In principle, the veterinarians think he's be fit for the Games, but I don't want to do that. Paganini has already given me so much and I still want to perform after the Games. Of course I would have loved to go to China, but not at all cost," Devroe added.
The Belgian Olympic International Committee has told the Belgian Equestrian Federation that they will only send four Belgian equestrian athletes to the Games. Show jumper Jos Lansink and eventing rider Karin Donckers have already secured their spot. For dressage, Jeroen Devroe was the only candidate. Eventer Joris van Springel still has to consolidate his definite selection.
Photo copyrighted: Astrid Appels/Eurodressage
Partial source: De Hoefslag
Related Links
Eurodressage Coverage of the 2008 Olympic Games
Eurodressage Coverage of the 2008 CDI Hagen