2008 Olympic Games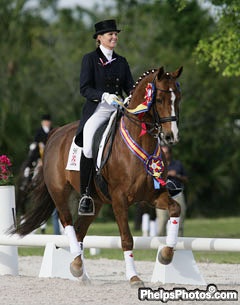 Dressage Canada announced the riders who have declared their intention to vie for a spot on Canada's 2008 Olympic Dressage Team. Currently ranking in the lead for a spot on the Canadian Olympic dressage team is Ashley Holzer and her Dutch warmblood gelding Pop Art
(by Amsterdam). Holzer sweeped all major Grand Prix classes at the 2008 Dressage in Florida show circuit, consistently scoring over 70%.
"Pop Art never ceases to amaze me. He has shown such consistency throughout the whole season at all types of different venues," remarked Holzer, who continues to climb the FEI Dressage Riders' World Ranking List and currently sits in 13th position. "It has been so exciting to see how comfortable and confident he is this year."
Jacqueline Brooks and her Oldenburg Gran Gesto (by Grannox x Goldstern) are also fully qualified and sitting second in the rankings with a 68% average. Brooks has also started her younger star horse Balmoral at Grand Prix level this show season. "Balmoral is just beginning this long climb but I'm happy to report he received 68% in his last Intermediaire II in Florida," Brooks explained.
Placing third in the Canadian Olympic ranking is Leslie Reid, who is competing Patricia Hatch's Orion, a 12-year-old Dutch Warmblood gelding sired by Jazz, at the CDI's in California. At the CDI Rancho Murieta, Reid rode to double second place with scores of 67.458% and 67.650%.

"I was really pleased with our Grand Prix test. Orion is proving to be really consistent," noted Reid of her equine partner's first year at Grand Prix in the international ring. "We were second to my former horse, Mark, with whom Leslie rode at the 2004 Olympic Games and is now being ridden by US Olympian Sue Blinks. "Now I have my qualifying scores, which makes me very happy."
Christilot Boylen is the fourth qualified rider for the Canadian Olympic team. Aboard Mr. & Mrs. Hermosilla's gorgeous black Baden Wurttemberger gelding Gachino (Gardez x Chinatown), Boylen has collected an average qualification score of 67.01%. The Canadian internal criteria was set at 67% and riders have until June to reach that qualification. Boylen achieved her score by showing successfully in the Sunshine Tour CDI in Spain in March 2008.
"What is interesting is that Canada, being the spread out country that it is, has the distinction of having qualified two riders in Florida, one in California, and one in Europe," Boylen told Eurodressage.

All declared riders for the Canadian Olympic Dressage Team are: 

Rider / Hometown / Horse / Owner

Christilot Boylen / Toronto, ON / Gachino / Christilot Boylen and Mr. Pedro Hermosilla
Jacqueline Brooks / Mt. Albert, ON / Gran Gesto / Brinc Ltd. and Anne Welch
Jacqueline Brooks / Mt. Albert, ON / Balmoral / Brinc Ltd., Mary and Eric Brooks, and John and Anne Welch
Lorraine Chappell / Aldergrove, BC / Carpatino / Lorraine Chappall
Wendy Christoff / Delta, BC / Pfalstaff / Wendy Christoff
Diane Creech / Caistor Centre, ON / Wiona / Louise and Doug Leatherdale
Suzanne Dutt-Roth / Merrickville, ON / Rheirattack / Suzanne Dutt-Roth
Courtenay Fraser / Langley, BC / Against All Odds / Courtenay Fraser
Ashley Holzer / Toronto, ON / Pop Art / Ian and Moreen Nicoll and Rusty Holzer
Jaimey Irwin / Lakefield, ON / Dover / Wendy Beresford
Tina Irwin / Lakefield, ON / Amicelli / Ute Busse and Wendy Beresford
Rochelle Kilberg / Surrey, BC / Argenta / Rochelle Kilberg and Ben Vermeulen
Cheryl Meisner / Halifax, NS / Paganini / John Risley
Cheryl Meisner / Halifax, NS / Tango / John Risley and Cheryl Meisner
Leslie Reid / Langley, BC / Orion / Patricia Hatch
Leslie Reid / Langley, BC / Pallas / Bettina Teixeira
Evi Strasser / Sainte-Adele, QC / Quantum Tyme / Evi Strasser
Chris Von Martels / Ridgetown, ON / Hesperos / Chris Von Martels
Simone Williams / Navan, ON / Wunder Ein / Simone Williams

Long-time rider, supporter, judge and owner Alastair Buchanan of West Vancouver, BC, has been named as the chef d'équipe for the 2008 Canadian Olympic Games Dressage Team. Buchanan, an elected member the Dressage Canada Board from 2003–2006, has attended the 1996 Olympic Games in Atlanta and the 2004 Olympic Games in Athens as an accredited Team supporter. 

"I am honored to have been selected as chef d'équipe for the 2008 Canadian Olympic Dressage Team. I look forward to serving the athletes in this capacity," noted Buchanan. "I expect that my background experience as a horse owner, rider, dressage official, and volunteer organizing committee member, will serve the 2008 Olympic Dressage Team appropriately and efficiently." 

Returning to the position of Team Veterinarian is Dr. Jennifer Miller. Dr. Miller, who was also the vet for the Canadian dressage team for the 2007 and the 2003 Pan American Games, has been assisting the Canadian Equestrian Team for over 10 years. Originally from Hudson, QC, and currently has her own private practice in Cave Creek, AZ, Dr. Miller is an FEI Veterinarian and a longtime equine enthusiast. She has also been the vet for the Canadian Eventing Team from 2002–2005 and was the Canadian Eventing Team veterinarian for the 2004 Athens Olympics. 

Norbert von Laak, of Germany, will continue in his role as the team coach for the Canadian Dressage Team. Under the training of von Laak, the Team participated at the 2006 World Equestrian Games in Aachen, and won the team silver medal at the 2007 Pan American Games in Rio de Janeiro, where Canada earned their 2008 Olympic berth. 

Mike Gallagher will once again reprise his role as Team Leader for the Canadian Equestrian Team, with Kerri McGregor as Assistant Team Leader. 

The equestrian events of the 2008 Olympic Games will be held August 9–21, 2008, at the world famous Hong Kong Jockey Club in Sha Tin, Hong Kong, with the cross country portion taking place at Beas River. Dressage kicks off on August 13th with the first of two days of competition in the Team Grand Prix medal class, and ends August 19th with the Individual Medal Grand Prix Freestyle class. 

The judging panel will include: 
Ground Jury President Mr. Gotthilf Riexinger (GER)
Member 2: Mr. Gary Rockwell (USA)
Member 3: Mr. Ghislain Fouarge (NED)
Member 4: Dr. Jean Michel Roudier (FRA)
Member 5: Mr. Leif Tornblad (DEN)
Member 6: Ms Minako Furuoka (JPN)
Member 7: Dr. Barnabas Mandi (HUN)
FEI Delegate Member 8: Mrs. Mariette Withages (BEL) 

To date, there are 10 countries that have qualified teams including: Australia, Brazil, Canada, Germany, Great Britain, Japan, Netherlands, Sweden, Switzerland and the USA.
Photo copyrighted: Mary Phelps/Phelpssports.com
Back to the 2008 Olympic index