2007 Young Riders World Cup Final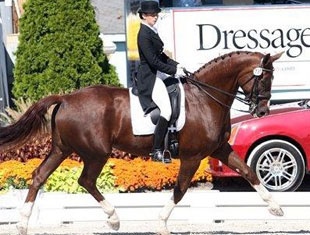 Micaela Mabragana from Buenos Aires, Argentina has been chosen to represent Central and South America in the Young Rider World Cup to be held in Frankfort, Germany, December 13 - 16. For the past two years Mica has trained with Lendon Gray in Bedford, NY.
She will be riding the 11 year old Swedish gelding Granada owned by Sam Grunkorn of Mt. Kisco, NY.
In Argentina as a child,, Mica won several pony trophies and championships. She was also winner of the Metropolitan Children's Dressage Championship in 2000. In the 2003 FEI World Dressage Challenge she was 3rd in Argentina. The next year she finished the instructor certification course. Two years later she won the Young Riders National Championship.
Mica came to the US when she was 13 with the Argentine team invited to compete at the Youth Dressage Festival held in Darien, CT. As soon as she graduated from high school she moved to Gleneden Dressage in New York to work with Lendon Gray. Last year she competed successfully on Lendon's 150cm Connemara stallion Ballywhim Ardan Mor placing well in the international level Young Rider classes. This year due to her consistent good scores she was given special permission to compete in the North American Young Rider Championships held in Lexington, VA. According to Lendon, "Despite the fact that Mica has not had the mileage that many of the riders that she competes against have, she is becoming an analytical trainer and instructor as well as a successful competitor."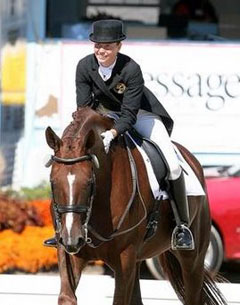 For the past year Mica has been teaching one of Lendon's long time clients Sam Grunkorn with his two Swedish horses. Sam offered her the opportunity to take Granada to one national show where they finished first with top scores. Sam then agreed to let them compete in two CDI's. At these shows Mica won 5 out of six classes with scores up to 71%. With these scores Mica had the highest average of any rider from Central and South America and was given the invitation to the World Cup. She will join 13 other riders from the US, Canada, Australia, Latvia, Portugal, Germany, France, Holland, Italy, Denmark, Portugal, Norway, and Austria. Mica states,. "Sam Grunkorn has made it possible for a dream to come true for me, to represent not only Argentina but all of South America in international competition. I am so incredibly excited."
Photos copyrighted: Susan Stickle
Back to the 2007 CDI-W Frankfurt/Young Rider World Cup Final index