2007 Irish Dressage Championships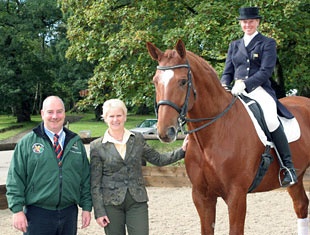 Heike Holstein won her eleventh national title at the Children's Choice Publications national dressage championships of Ireland at Necarne Castle, Irvinestown, County Fermanagh Friday 21st September to Sunday 23rd September 2007.
The Children's Choice Publications national dressage championships were taking place in Northern Ireland for the first time and the competitors were welcomed to Irvinestown by the Chairman of Fermanagh District Council, Councillor Alex Baird (UUP) at the opening reception in the corporate marquee on the lawn in front of Necarne Castle on Thursday evening. [20th September 2007]. Heike Holstein was drawn first to go in the Children's Choice Publications Grand Prix championship in the walled garden on a sunny Sunday morning with the 11 year old chestnut gelding World Fire. In only their second outing at Grand Prix level they posted a score of 64.90%. Defending national champion Laragh Hamilton from Lisburn scored 62.29% with her 15 year old chestnut mare Claggan Roxy Music by the Irish Draught stallion Rakish Paddy to finish in joint second place along with Sue Smallman and Oakengrove Ideal. Afterwards a delighted Heike described the former potential dressage horse winner and 2005 Advanced Medium and Prix St Georges champion World Fire as "the best horse I have ever had. He is pure class, and so eager to please". Sue Smallman and Oakengrove Ideal followed up their good showing at the recent Marlton autumn dressage festival by winning the Kevin O'Sullivan Intermediaire II championship with Oakengrove Ideal on a score of 64.64% with Laragh Hamilton and Claggan Roxy Music in second place on 64.27%.
Northern Ireland's leading dressage rider Yvette Truesdale maintained her recent run of good form by taking first and second place in both of the small tour championship classes. On Saturday the walled garden at the well appointed Irvinestown venue at was bathed in sunshine and Yvette reflected the mood by posting a score of 67.75% with the twelve year old black Weltmeyer Mare Wishful Thinking to win the Olympic Saddlery Prix St Georges championship and take second place with Has to be Fun on 64.88% total. Maureen Dwyer and her 9 year old KWPN stallion Reve D'Or scored 63.25% for third place. On Sunday morning Yvette won the second of the small tour championship classes when taking the Children's Choice Publications Intermediaire I championship with Wishful Thinking on a score of 65.38% with Has to be Fun in second place once again on 63.38%. James Rooney who was in Pratoni the week before doing his judges upgrading at the European Three Day Event Championships, showed more collection with Commanding Officer as they slotted into third place on a score of 63.03%. One talking point was the difference in scores for Enfield-based Australian rider Sarah Mellor and her hannovarian chestnut gelding Fahrenheit with German judge Kerstin Holthaus [C] viewing her as the overall class winner on 67% and Austrian judge Waltrouid Gruber [H] scoring the test at 57.25% placing her last giving an overall total of 62.13% which would ultimately see Sarah miss out on taking any of the four prize's on offer. In the afternoon session on the final day of the championships Yvette Truesdale scored 65.68% with the ten year old bay gelding Has to be Fun owned by Jim Burgess, to win the Northern Ireland Dressage Prix St Georges Freestyle championship.
Junior international rider Bill Delahoyde from Marlton Stud, County Wicklow won the Ballinteggart Stud Advanced Medium freestyle championship with Leonardo Austria on a score of 66.66% with Sylvia Henry and Obelix just marginally adrift on a 66.58% total to place second. Bill also won the Team Millicent Advanced Medium championship which clinched the under 21 national title for the student and he was presented with his sash and prize by Robert McCormick the managing director of the Ballynahinch, County Down-based title sponsor Children's Choice Publications Limited at the final prize giving ceremony on Sunday afternoon. Danielle Read took time out from her Ph.D studies at UCG to make trip up from Ballinrobe, County Mayo and place second with Early Warning in the Advanced Medium championship on a score of 63.82% ahead of Sylvia Henry and the consistent Obelix on a 63.13% total. Waltrouid Gruber and Kerstin Holthaus judged The Irish Horse Board and Dressage Ireland Potential Dressage Horse Final in the indoor arena on the Friday afternoon. There were nine horses in the final and each of them had to perform the FEI Dressage Test for 4-year old horses for the judges who were positioned at A rather than C on this occasion. The aim of the class is to identify horses bred in Ireland who have the conformation, temperament and potential to be produced as a riding horse suitable for dressage. The winner was the four year old Moothyeb mare Hopeful Destiny out of the prolific dressage dam Weijshe bred by John Reid from Crossgar, County Down, owned by Mrs Gisela Holstein and ridden by her daughter Heike. Last to go they posted a winning total score of 7.7. The winning owner received a first prize of €500 and the breeder a prize of €300. The five year old Quiletto gelding Orlas Quiletto which is out of Orlas Gold, owned and ridden by Anna Dangerfield from Ballyduff Upper, County Waterford placed second on a 7.4 total. Christine McBride from Muckamore County Antrim was second to go in the final scoring 7.3 with her own four year old gelding Lute by Clover Echo. This score would ultimately see the gelding bred by Mary Frances Doherty from Saintfield, County Down place third.
Northern Ireland Dressage Chairperson Sylvia Henry got the last day of the championships off to a winning start by picking up first prize in the South Munster Region Advanced championship with her16 year old Major de la Cour Belgian bred stallion Obelix on a score of 64.74%. Bill Delahoyde and Leonardo Austria placed second on 64.21% with Marguerite McSweeney and Aughnacrinna in third on 60.40%. Twinfort Mr Freeze and Stepahnie Arthur were unopposed when scoring 65.75% in the Side Saddle championship and it was a pity not to see more competitors in this class. Anne Marie Dunphy from Castlecomer, County Kilkenny won three championship classes with the six year old Ronaldo gelding Urbanus. In a keenly fought contest with Ruth Chadwick and Tintoretto S in the Quinns of Baltinglass elementary championship Anne Marie finished on an overall total of 67.38% with Chadwick just marginally behind her on 67.25% and Kate Dwyer and Witto in third place on 66.93%. In the Vinesgrove Stud and Racing Medium championship Anne Marie and Urbanus won with an overall score of 70.09%. Kate Dwyer and the seven year old Oldenburg gelding Witto are a new partnership this season and they scored 67.95% for second. Lucy Adams was third with the seven year old Oldenburg pony stallion owned by William and James Collins of Lough Erne Stud, Hillsborough, County Down on an overall combined score of 66.46%. The Eastern Region medium freestyle championship also went the way of Anne Marie and Urbanus on a 67.50% with Charlotte Walsh and Four Socks in second place. Ruth Chadwick and Tintoretto S produced a flowing freestyle to score 74.27% and win the South East Region elementary freestyle championship with Alison Kirkpatrick and Flying Dutchman in second on 66.35%. The Northern Ireland Dressage team of Kelly Troughton (Dolce Vita), Lucy Hanna (Rocksoxs), Lynne McCormick (Transbergs Chilli) and Sylvia Henry (Cairnside Adastra) won the Horetown Equestrian Tack Shop and Country Clothing regional team championship on a team score of 393.01%. Antrim Grammar pupil Lucy Hanna not only provided the team with their highest score but she went on to win the pony rider section of the Dressage Ireland Silver Spurs final ride off. Heike Holstein won the Leinster Region young dressage horse championship with the four year old gelding Last Resort by Last News out of Gina on a score of 72.71% with Kelly Troughton and the five year old trakehner mare Dolce Vita owned by Matthias Pawlowski of Beech Hill Cottage Stud in second place on 71.04%. Heike Holstein may not have been competing in the Team Millicent novice championship but her influence was evident nonetheless as she trained the impressive Sonya McCormack and the County Kildare rider claimed first prize on the 8 year old bay mare Sinieky by Monaco in the walled garden on Sunday morning, by winning the final ride off of the top ten on a score of 66.97%. The Blarney Riding Centre preliminary championship ride off took place at the same time and Julianne Fisher scored 68.54% with Be Back Soon to win the ride off.
RESULTS
THE BLARNEY RIDING CENTRE PRELIMINARY CHAMPIONSHIP
1st Be Back Soon (Julianne Fisher) 68.54 %
2nd Michelle (Emma Jane Dawson Stanley) 67.50%
3rd Ceide Rose (Lisa Erskine) 66.88%
4th Sinieky (Sonya McCormack) 66.67%
5th Winnes Hit 11 (Elaine Potter) 66.46%
6th Dolce Vita (Kelly Troughton) 66.04%
THE TEAM MILLICENT NOVICE CHAMPIONSHIP
1st Sinieky (Sonya McCormack) 66.97%
2nd Dolce Vita (Kelly Troughton) 66.79%
3rd Uneek (Lynne McCormick) 65.18%
4th Rocksocks (Lucy Hanna) 64.82%
5th Clonguish Flash (Antonia Ward) 63.93%
6th Nick of Time (Marian Thomas) 63.22%
THE QUINNS OF BALTINGLASS ELEMENTARY CHAMPIONSHIP
1st Urbanus (Anne Marie Dunphy) 67.38%
2nd Tintoretto S (Ruth Chadwick) 67.25%
3rd Witto (Kate Dwyer) 66.93%
4th Transbergs Chilli (Lynne McCormick) 65.45%
5th Youri (Eilish Byrne) 64.33%
6th Pastiche (Kelly Troughton) 63.77%
THE VINESGROVE STUD AND RACING MEDIUM CHAMPIONSHIP
1st Urbanus (Anne Marie Dunphy) 70.09%
2nd Witto (Kate Dwyer) 67.95%
3rd Brinkum's Helmut (Lucy Adams) 66.46% 
4th Lifestyle (Emma Kieran) 66.04%
5th Four Socks (Charlotte Walsh) 63.90%
6th Transbergs Chilli (Lynne McCormick) 63.75%
THE TEAM MILLICENT ADVANCED MEDIUM CHAMPIONSHIP
1st Leonardo Austria (Bill Delahoyde) 66.06%
2nd Early Warning (Danielle Read) 63.82%
3rd Obelix (Sylvia Henry) 63.13%
4th Lombard 7 (Gillian Quinn) 62.07% 
5th Augnacrinna (Marguerite McSweeney) 60.88%
6th Lorenzo (Sorrell Klatzko) 58.96%
THE SOUTH EASTERN REGION ELEMENTARY FREESTYLE CHAMPIONSHIP
1st Tintoretto S (Ruth Chadwick) 74.27%
2nd Flying Dutchman (Alison Kirkpatrick) 66.35%
3rd Warrior King (Sylvia Henry) 60.73%
4th Cairnside Adastra (Sylvia Henry) 60.21%
5th Bishopmills (Sylvia Henry) 58.23%
6th Gentle Diamond (Simone Hession) 57.39%
THE EASTERN REGION MEDIUM FREESTYLE CHAMPIONSHIP
1st Urbanus (Anne Marie Dunphy) 67.50%
2nd Four Socks (Charlotte Walsh) 66.09% 
THE BALLINTEGGART STUD ADVANCED MEDIUM FREESTYLE CHAMPIONSHIP
1st Leonardo Austria (Bill Delahoyde) 66.66%
2nd Obelix (Sylvia Henry) 66.58% 
3rd Early Warning (Danielle Read) 63.75%
4th Aughnacrinna (Marguerite McSweeney) 62.16%
THE HORETOWN EQUESTRIAN TACK SHOP AND COUNTRY CLOTHING REGIONAL TEAM CHAMPIONSHIP
1st - Northern Region – 393.01%
[Dolce Vita (Kelly Troughton), Rocksocks (Lucy Hanna),
Transbergs Chilli (Lynne McCormick), Cairnside Adastra (Sylvia Henry)]
2nd – Leinster Region – 388.03%
[Witto (Kate Dwyer), Be Back Soon (Julianne Fisher),
O'Briens Boy (Vivienne Seymour), 
Ballinapark Regal Star (Eva Pielartzik)]
3rd – Eastern Region – 379.01%
[Beau Bayou (Lindsay Walker), Teraldo (Rachel Keppel),
Tintoretto S (Ruth Chadwick), Napoleon (Margaret McMullin)]
DRESSAGE IRELAND SILVER SPURS
(SUPPORTED BY THE IRISH HORSE BOARD)
Pony Rider Final
1st Lucy Hanna - 427
2nd Eavan Murphy - 424
3rd Courtney Stuart – 411
Junior Rider Final
1st Katie Timmins - 394
2nd Brian Morrison - 360
3rd Shauna Finneran – 351
Young Rider Final
1st Amanda Goldsbury - 422
2nd Sara Glynn - 407
3rd Annie Harvey - 259
THE DRESSAGE IRELAND & IRISH HORSE BOARD 
POTENTIAL DRESSAGE HORSE FINAL
1st Hopeful Destiny (Heike Holstein)
2nd Orlas Quiletto (Anna Dangerfield)
3rd Lute (Christine McBride)
THE LEINSTER REGION YOUNG DRESSAGE HORSE CHAMPIONSHIP
1st Last Resort (Heike Holstein) 72.71%
2nd Dolce Vita (Kelly Troughton) 71.04%
3rd Homegrown Exchange (Rosemary Patterson) 67.30%
4th Vanir Campari (Danielle Read) 66.67%
5th Astoria (Heike Holstein) 65.00%
6th Hot n' Spicy (Maria Byrne) 65.00%

THE TEAM MILLICENT ADVANCED CHAMPIONSHIP
1st Obelix (Sylvia Henry) 64.74%
2nd Leonardo Austria (Bill Delahoyde) 64.21%
3rd Aughnacrinna (Marguerite McSweeney) 60.40%
4th Early Warning (Danielle Read) 60.40%
5th Beezie Sue (Simone Hession) 60.00%
THE OLYMPIC SADDLERY PRIX ST GEORGES CHAMPIONSHIP
1st Wishful Thinking (Yvette Truesdale) 67.75%
2nd Has to be Fun (Yvette Truesdale) 64.88%
3rd Reve D'Or (Maureen Dwyer) 63.25%
4th Commanding Officer (James Rooney) 61.13%
5th Fahrenheit (Sarah Mellor) 60.88%
6th Ben Hymn (Lucy Adams) 59.75%
THE NORTHERN IRELAND DRESSAGE PRIX ST GEORGES FREESTYLE CHAMPIONSHIP
1st Has to be Fun (Yvette Truesdale) 65.68%
2nd Commanding Officer (James Rooney) 62.93%
THE CHILDREN'S CHOICE PUBLICATIONS INTERMEDIARE I CHAMPIONSHIP
1st Wishfull Thinking (Yvette Truesdale) 65.38%
2nd Has to be Fun (Yvette Truesdale) 63.38%
3rd Commanding Officer (James Rooney) 63.06%
4th Reve D'Or (Maureen Dwyer) 62.75% 
THE KEVIN O'SULLIVAN INTERMEDIARE II CHAMPIONSHIP
1st Oakengrove Ideal (Sue Smallman) 64.64%
1st Claggan Roxy Music (Laragh Hamilton) 64.27%
3rd Egano S (Anne Marie Dunphy) 60.86%
THE CHILDREN'S CHOICE PUBLICATIONS GRAND PRIX CHAMPIONSHIP
1st World Fire (Heike Holstein) 64.90% 
j 2nd Claggan Roxy Music (Laragh Hamilton) 62.29%
j 2nd  Oakengrove Ideal (Sue Smallman) 62.29%
4th Egano S (Anne Marie Dunphy) 62.19%
ABBEYLEIX OWEN TROPHY [Highest placed
Connemara presented by the Connemara Society]
- Dangan Rose (Eavan Murphy)
IRISH DRAUGHT TROPHY [Highest placed
Irish Draught] - Beezies Sue (Simone Hession)
AIRTRICITY HOLDINGS AWARD FOR THE BEST IRISH BRED HORSE
-Claggan Roxy Music
Photo copyrighted: Keith Jack
Related Links
Laragh Hamilton, 2006 Irish Dressage Champion
Heike Holstein Wins A Record Eight National Title at 2003 Irish Dressage Championships
Heike Holstein Wins Ninth Irish Dressage Champion's Title at 2004 Nationals