2007 Dutch Pony Championships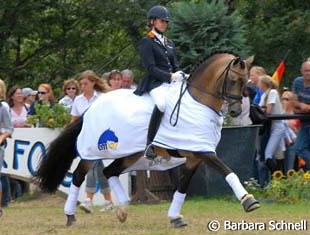 The 15-year old Angela Krooswijk became the Dutch FEI Pony Dressage Champion yesterday at the 2007 Dutch Dressage Championships (Hippiade) in Ermelo, The Netherlands. Aboard her schoolmaster Power and Paint (by Power Boy).
Krooswijk scored 72.70% in the finals and became the winner of the class.
Placing fourth individually and winning team silver at the 2007 European Pony Championships, Krooswijk rode her last show aboard Power and Paint, a roan stallion owned by the German Pasch family, as she will move on to horses as of 2008. Krooswijk has already been competing Red Diamond (by Rohdiamant) at Junior Riders level.
The reserve champion was the 13-year old Amsterdam based Maria van den Dungen. Aboard the dark bay Pan Tau B (by Power Star), van den Dungen scored 70.80% and became the runner up. Trained by Hans and Cora Arends, Maria also became the 2007 Dutch Pony Champion at L2 level (second level) with her young FEI pony Arts Demaran on a score of 70.30%. Antoinette te Riele and the German bred Danny Boy (by Flying Dream) ranked third on 70.20%.
Photo copyrighted: Barbara Schnell
Results
Z2-DE: 
1. Angela Krooswijk (Prinsenbeek) Power and Paint 72,70%
2. Maria van den Dungen (Amsterdam) Pan Tau 70,80%
3. Antoinette te Riele (Weert) Danny Boy 70,20%
Z1-DE: 
1. Sanne van Grotel (Riethoven) Sulaatik's Cappuccino 65,50%
2. Daphne Geerts (Westerbeek) De Merel's Presto 62,30%
3. Daimy de Hoog (Dalfsen) Palacio 62,00%
Z1/Z2-C: 
1. Dion van Heeswijk (Mill) Precious Boy 62,40%
M2-DE: 
1. Julia van Schaik (Valthermond) Den Ostriks Dailan 69,70%
2. Klinte de Rijck ( ) Omira 67,50%
3. Bo Kragtwijk (Aalsmeer) Lasco 65,30%
M1-DE: 
1. Sanne van Gelder (Boven Leeuwen) Nicolai 68,70%
2. Julliet Hillebrand (Swifterbant) Miss Popov 66,80%
3. Lisanne van Blijderveen (Ommeren) Newton 66,00%
M1/M2-C: 
1. Nadezjna Vaes (Stramproy) Promises 67,00%
2. Bengt Snijders (Emmen) Lord Wesley 66,50%
3. Inge Schellekens (Helvoirt) Alice's Lucky Boy 64,70%
M1//M2-B: 
1. Teddy Damen (Andijk) Ringo 63,20%
2. Aimee van Neer ( ) Twisthoeve's Sheila 63,00%
3. Joan Molengraaf (Zuidland) Beauty 62,70%
L2-DE: 
1. Maria van den Dungen (Amsterdam) Arts Demaran 70,30%
2. Heleen Schuurmans (Grote Brogel, B) Donata 68,20%
3. Kirsten Dirks (Helmond) Silver Shadow 67,70%
L2-C: 
1. Annefleur Stuivenberg (Nijkerk) Kinai 67,60%
2. Febe van Zwambagt (Bergharen) King Z 67,70%
3. Dixy Bloks (Oirschot) Dempsy Waldo 67,20%
L2-AB: 
1. Pleun Bosman (Nijkerkerveen) Idse 66,80%
2ea. Marith Golsteijn (Dedemsvaart) Jesse 66,30%
2ea. Manon Bonhof (Epe) Clint Eastwood 66,30%
Related Link
Michelle van Lanen, 2006 Dutch Pony Outdoor Dressage Champion