2007 British Youth Riders Championships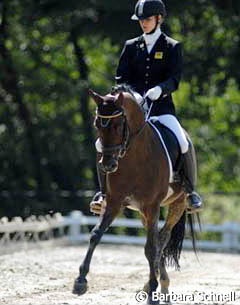 More than 1,000 tests took place over five days of competition at the Sheepgate British National Youth Riders Championships for under-25s, 13-18 August 2007, in Lincolnshire.
In the FEI pony division, the gold medal went to Emily Harris on the 11-year old German reitpony stallion Don Joshi (by Dressmann). Harris made her last year as a pony rider a memorable one. On her team debut, she won team bronze at the recent European Championships and, at Sheepgate, she took the British Pony Championship.
Another team member, Keri Bates and Donna Parrina, who achieved the best British individual placings (seventh) at this year's European Junior Championships, won the Junior Championships. Bates is trained by Grand Prix rider Nicola McGivern.
On only their second outing, Carl Hester's working pupil Lucy Cartwright and Goldwing took the Hortech Young Rider Championships.
Photo by Barbara Schnell
Results
Pony Riders - Team Championship Test
1. Don Joshi - Emily Harris - 71.05%
2. Languard - Amy Woodhead - 70.26%
3. Kastanienhof's Vitus - Olivia Kuropatwa - 70.13%
4. Pretty Woman III - Gemma Read - 67.63%
5. Caresto - Steph Pike - 67.50%
6. Northlands Royal Performance - Darcas Lever - 67.37%
7. Symondsbury Empire - Eliza Mason - 63.82%
8. Diamond Rubin - Sarah Fitton - 62.63%
9. Nice as Spice- Sarah-Jane Keevil - 62.37%
10. Ceasar - Samantha Brown - 61.97%
11. Nando II - Robyn Walker - 61.97%
12. Bernwode Dimitri - Gemma Abram - 59.87%
13. Bernwode Chantal - Gemma Abram - 59.61%
14. Carina H - Eliza Mason - 59.61%
15. Coldblow Honeysuckle - Madeleine Van Vleet - 58.95%
16. Golden Heart - Hannah Jarman - 57.24%
Pony Riders - Individual Test
1. Don Joshi - Emily Harris - 71.00%
2. Kastanienhof's Vitus - Olivia Kuropatwa - 69.75%
3. Northlands Royal Performance - Darcas Lever - 68.38%
4. DHI Peppino - Natasha Leak - 68.00%
5. Ceasar - Samantha Brown - 66.25%
6. Pretty Woman III - Gemma Read - 65.25%
7. Caresto - Steph Pike - 64.50%
8. Nando II - Robyn Walker - 63.63%
9. Languard - Amy Woodhead - 63.25%
10. Bernwode Dimitri - Gemma Abram - 62.63%
11. Diamond Rubin - Sarah Fitton - 62.50%
12. Symondsbury Empire - Eliza Mason - 62.38%
13. Carina H - Eliza Mason - 62.13%
14. Coldblow Honeysuckle - Madeleine Van Vleet - 61.63%
15. Golden Heart - Hannah Jarman - 56.50%
2007 British Pony Championships
1. Don Joshi - Emily Harris - 71.03%
2. Kastanienhof's Vitus - Olivia Kuropatwa - 69.94%
3. Northlands Royal Performance - Darcas Lever - 67.87%
4. Languard - Amy Woodhead - 66.76%
5. Pretty Woman III - Gemma Read - 66.44%
6. Caresto - Steph Pike - 66.00%
7. Ceasar 171 - Samantha Brown - 64.11%
8. Symondsbury Empire - Eliza Mason - 63.10%
9. Nando II - Robyn Walker - 62.80%
10. Diamond Rubin - Sarah Fitton - 62.57%
11. Bernwode Dimitri - Gemma Abram - 61.25%
12. Carina H - Eliza Mason - 60.87%
13. Coldblow Honeysuckle - Madeleine Van Vleet - 60.29%
14. Golden Heart - Hannah Jarman - 56.87%
Junior Riders - Team Championship Test
1. Donna Parrina - Keri Bates - 70.50%
2. Jellybean B - Darcas Lever - 68.63%
3. Dunn to a T - Jessica Dunn - 67.88%
4. Mister Magic - Jessica Chan - 66.63%
5. Kuno HB - Camilla Anderson - 65.88%
6. Equilibra Niky - Megan Daley - 65.75%
7. Onino - Carly Taylor-Smith - 65.50%
8. Melvin - Georgina Wilkinson - 63.75%
9. O'Donner - Lucy Fallen - 63.00%
10. Tonga - Sophie Wastall - 62.63%
11. Morris III - Robert Trobridge - 62.50%
12. Arlekin TS - Kathryn Bates - 62.00%
13. Wild Card - Sophie Roberts - 60.63%
14. Alexus Bo - Jenny Reid - 58.00%
15. Saygon V De Goudvinkhoeve - Alice Page - 54.50%
16. Highlight II - Jessica Ormrod - 50.75%
Junior Riders - Individual Test
1. Donna Parrina - Keri Bates - 67.63%
2. Jellybean B - Darcas Lever - 65.63%
3. Dunn to a T - Jessica Dunn - 65.25%
4. Mister Magic - Jessica Chan - 64.75%
5. Equilibra Niky - Megan Daley - 64.50%
6. Purple Oscar - Alice Page - 61.88%
7. O'Donner - Lucy Fallen - 61.38%
8. Melvin - Georgina Wilkinson - 61.25%
9. Morris III - Robert Trobridge - 59.25%
10. Tonga - Sophie Wastall - 57.50%
11. Arlekin TS - Kathryn Bates - 57.13%
12. Highlight II - Jessica Ormrod - 54.50%
13. Saygon V De Goudvinkhoeve - Alice Page - 47.38%
2007 British Junior Rider Championship
1. Donna Parrina - Keri Bates - 69.06%
2. Jellybean B - Darcas Lever - 67.13%
3. Dunn to a T - Jessica Dunn - 66.57%
4. Mister Magic - Jessica Chan - 65.69%
5. Equilibra Niky - Megan Daley - 65.13%
6. Melvin - Georgina Wilkinson - 62.50%
7. O'Donner - Lucy Fallen - 62.19%
8. Morris III - Robert Trobridge - 60.88%
9. Tonga - Sophie Wastall - 60.07%
10. Arlekin TS - Kathryn Bates - 59.56%
11. Highlight II - Jessica Ormrod - 52.63%
12. Saygon V De Goudvinkhoeve - Alice Page - 50.94%
Young Riders - Team Championship Test
1. Goldwing - Lucy Cartwright - 70.22%
2. Cranswick's Real Mccoy - Louise Justesen - 68.67%
3. Nevada AJ - Rachel Black - 63.33%
4. Duschka - Janine Pearce - 63.33%
5. Bungee - Rebecca Bates - 62.89%
6. Equilibra Niky - Megan Daley - 62.56%
7. Stanhopes Odwig - Lucy Beckingham - 60.22%
8. Lancelot VI - Melanie Wallinger - 60.00%
9. La Bamba - Sarah Gorvett - 59.78%
10. Marcell - Ali Glennie - 59.00%
11. Highlander - Anna-Karin Neal - 58.33%
12. Humble Pie - Sarah Hinchcliffe - 56.67%
13. Elmelunas Garcia - Eleanor Brown - 55.78%
14. Cycle King's Davito - Samantha Thake- 52.44%
Young Riders - Individual Prix St Georges
1. Goldwing - Lucy Cartwright - 67.50%
2. Cranswick's Real Mccoy - Louise Justesen - 65.00%
3. Stanhopes Odwig - Lucy Beckingham - 64.38%
4. Nevada AJ - Rachel Black - 63.13%
5. Lancelot VI - Melanie Wallinger - 60.75%
6. Equilibra Niky - Megan Daley - 60.25%
7. Humble Pie - Sarah Hinchcliffe - 59.13%
8. Duschka - Janine Pearce - 58.88%
9. Highlander - Anna-Karin Neal - 58.88%
10. La Bamba- Sarah Gorvett - 58.50%
11. Bungee - Rebecca Bates - 57.75%
2007 British Young Rider Championship
1. Goldwing Lucy - Cartwright - 68.86%
2. Cranswick's Real Mccoy - Louise Justesen - 66.84%
3. Nevada AJ- Rachel Black - 63.23%
4. Stanhopes Odwig- Lucy Beckingham - 62.30%
5. Equilibra Niky - Megan Daley - 61.41%
6. Duschka - Janine Pearce - 61.10%
7. Lancelot VI - Melanie Wallinger - 60.38%
8. Bungee - Rebecca Bates - 60.32%
9. La Bamba - Sarah Gorvett - 59.14%
10. Highlander - Anna-Karin Neal - 58.60%
11. Humble Pie - Sarah Hinchcliffe - 57.90%
12. Marcell Ali - Glennie - 29.50%
Related Links
Eurodressage Coverage of the 2007 European Pony Championships
Eurodressage Coverage of the 2007 European Junior/Young Championships