2007 Bundeschampionate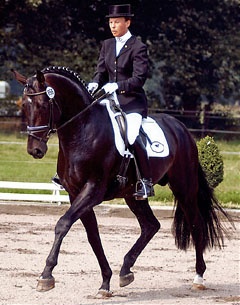 Damsey, Cayenne and Donner Hit were the winners of the Bundeschampionate qualification classes at the Weser Ems qualifier in Haftenkamp, Germany. A large field of forty 5-year olds was split up into two groups, while seventeen 6-year olds battled for victory.
The licensed Hanoverian stallion Damsey (by Dressage Royal) was the winner of group 1 of the 5-year old division. Owned by Americans Doug and Louise Leatherdale, Damsey scored a strong 8.8 mark under Inga von Helldorff. The bay stallion beat the black Oldenburg stallion Duino (by Donnerschwee x Sion), who scored 8.5 under Kira Wulferding.
The new combination Susan Pape and Cayenne won group 2 of the 5-year olds. In Japanese ownership, Cayenne is a former Bundeschampionate finallist. The lovely mare by Carabas x Bismarck scored 8.6. Nina Magdalena Ellerbrock and Aljetto, a chestnut Holsteiner stallion by Aljano x Linaro, placed second with 8.4. The pair tied with the P.S.I. combination Dr. Ulf Möller and Wish Wonders.
In the 6-year old division, Ellen Bodenkamp and Donner Hit were the strongest scoring duo. The licensed stallion by Donnerhall x Hill Hawk xx scored 8.2 and stayed 0.1 point ahead of two second placed combinations. Ines Westendarp and Dance With Me (Dream of Love x Rohdiamant) tied with the World Championship bronze medallists Susan Pape on San Remo (Sandro Hit x Donnerhall). They both scored 8.1.
Photo copyrighted: Ruchel - courtesy Mrs Bodenkamp
Results
5-year old Dressage Horses - Group 1
1. Damsey Helldorff,Inga von - 8.8
2. Duino - Wulferding,Kira - 8.5
3. Dream Catcher - Burger,Katrin - 8.3
4. Ludwig - Bodenkamp,Ellen- 8.2
5. Good-Morning M - Bettenworth,Katrin - 8.0
5. Cleopatra - Bültjer,Erik - 8.0
5. Lissabon - Frieling,Sandra - 8.0
5. Lauries As - Kötter,Sandra - 8.0
5. Famaso - Müller-Kersten,Andrea - 8.0
10. Dark Carlotta - Bimschas,Alexandra - 7.7
10. Ferrari - Fiebelkorn,Anna-Sophie - 7.7
10. Bertoli W - Wittig,Brigitte - 7.7
13. Rachmaninof - Kleine Stüve,Ruth - 7.6
13. Frodo - Weichert,Dieter - 7.6
15. Die Insel - Bettenworth,Katrin - 7.5
15. Royal-Rubin - Herkenroth,Iris - 7.5
15. Desiree - Skall Lynge,Charlotte - 7.5
15. Rudi Royal - Wienkamp,Ann-Christin - 7.5
19. Ronja M - Möller,Eva - 7.4
20. Fidertanz - Fischer,Bernhard - 7.3
20. Luxor - Henschke,Miriam - 7.3
22. Fiffikus - Ammeling,Karin - 6.9
22. Welfenfürst - Menke,Andreas- 6.9
24. For You - Egbers,Sabine - 6.8
24. Legolas - Hansen,Insa - 6.8
26. Dobbs Ferry - Peterberns,Anke - 6.7
26. Mr Moneymaker - Heistova-Tonta,Velina-Angelova - 6.7
28. Wyclef Jean - Gießelmann,Jan-Dirk - 6.5
28. Simsalabim - Möller Dr.,Ulf - 6.5
30. Laokoon B - Gießelmann,Jan-Dirk - 6.4
30. Wild Flower B - Hannöver-Sternberg,Martina - 6.4
32. Dolcetto - Frieling,Sandra - 6.3
32. Weitsicht - Kerner,Stefanie - 6.3
5-year old Dressage Horses - Group 2
1. Cayenne - Pape,Susan - 8.6
2. Aljetto - Ellerbrock,Nina Magdalena - 8.4
2. Wish Wonders - Möller Dr.,Ulf - 8.4
4. Daddy Cool - Engelbart,Anja - 8.1
4. Rood Vander - Hannöver-Sternberg,Martina - 8.1
6. Rossano R - Hansen,Insa - 7.8
6. Die Sonne - Henschke,Miriam - 7.8
6. Dorina L - Kleine-Klanker,Stefan - 7.8
6-year old Dressage Horses
1. Donner Hit - Bodenkamp,Ellen - 8.2
2. Dance with me - Westendarp,Ines - 8.1
2. San Remo - Pape,Susan - 8.1
4. Dos OW - Bettenworth,Katrin - 8.0
4. Don Giovanni - Koschel,Christoph - 8.0
6. Satchmo H - Ellerbrock,Sonja Marie - 7.8
7. Denaro - Bettenworth,Katrin - 7.7
7. World Hit - Burger,Katrin - 7.7
9. Fine Time - Kerner,Stefanie - 7.5
10. Wyomi - Egbert,Heidi - 7.2
11. Don Ferro - Ellerbrock,Sonja Marie - 6.9
12. Soubirous - Mormann,Hiltrud - 6.7
13. Florida Queen - Fetzer,Olaf - 6.5
14. Dominus - Bültjer,Erik - 6.3
14. Despina - Schrandt,Angela - 6.3
16. D'Inzeo - Luther,Tanja - 6.0
17. Raskovia - Pohlmann,Dirk - 5.6
Back to the 2007 Bundeschampionate Index