German Dressage News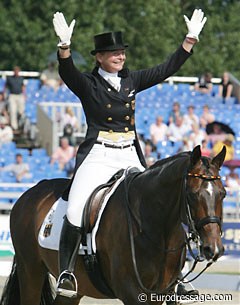 German Grand Prix team rider Ann Kathrin Linsenhoff has announced her retirement from competition. The 46-year old dressage rider from Kronberg, Germany, will terminate her active career
as international dressage rider due to severe health issues following Lyme disease.
"This is an unbelievably heavy decision for me," Linsenhoff said. "Never before did I have such good horses as now." Linsenhoff will not sell her horses, but continue to ride them at her stable Schafhof in Germany. It can be expected that stepson Matthias Alexander Rath will take over the ride of a few of them.
Linsenhoff suffered from Lyme disease this winter, which caused her to have heart arrhythmia and severe fever. Since they discovered the cause of her feeling ill, doctors were able to treat her and her condition improved tremendously. Linsenhoff announced her come back to the show ring with Wahajama and Sterntaler, stating that she would compete at the Horses and Dreams show in Hagen, Germany, April 27 - May 1, 2007.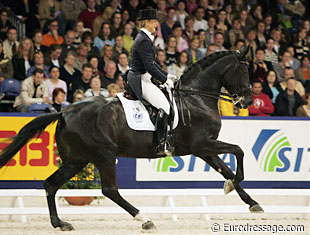 Unfortunately, these plans as well as her future show career have come to an end. Doctors have recommended her not to strain herself and they advised her not to submit herself to the physical exertion of a professional show career out of fear for returning health problems. Though Linsenhoff will no longer show, she will not give up the Unicef project and continues to raise money for children of third world countries.
Ann Kathrin Linsenhoff started her career as a young rider, winning team gold at the 1981 European Young Riders Championships. She won team gold at the 1988 Olympic Games in Seoul (KOR), at the 1990 and 2002 World Championships and at the 1989 and 2005 European Dressage Championships. She was one of the most successful German dressage riders ever.
Photos copyrighted: Astrid Appels / Eurodressage
Related Links
Ann Kathrin Linsenhoff Suffers from Lyme Disease
Germany Wins Team Gold at the 2005 European Dressage Championships
Ann Kathrin Linsenhoff at the 2002 World Equestrian Games
Wedding Bells in Germany: Linsenhoff Marries Rath