2007 CDI-W Warsaw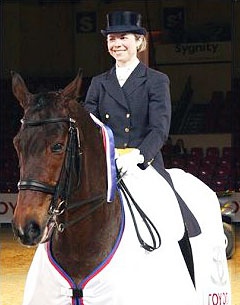 In Torwar Hall in Poland the Central European Final of the FEI World Cup™ Dressage was organised and took place almost in the same hours as the Western-European Final of the FEI World Cup™ Dressage in 's-Hertogenbosch. The FEI Central European League Word Cup Final
was a contest of truly European level, in which the Eastern participants have always played an important role. A wonderful audience and most enthusiastic organisation heartily welcomed all competitors who happily used the first test Grand Prix to get used to the audience and the great atmosphere.
Iryna Lis, a clean-cut Byelorussian lady showing Problesk, a healthy 17 year old home bred trakehner gelding, was in the lead before entering the show grounds of Warsaw. She was too happy to win the Freestyle of the FEI World Cup™ Dressage today. "What a wonderful award for my true and healthy champion Problesk!", she commented. "Travelling to Las Vegas and competing there in the Final will be a special honour for me and my horse, as it will be his debut in flying. Problesk had not travelled by plane previously before and now this will probably his last international outing in a championship", the student of teacher Finnish Kyra Kyrklund said. She travelled to compete at the WEG in Jerez 2002 all by car and trailer. As all European horses will fly from Amsterdam and Iryna's trainer Kyra Kyrklund still has to make up her mind to compete in Las Vegas, Iryna Lis does strongly hope to be partnered with her trainer and her horse Max in the aircraft to the FEI World Cup™ Dressage Final.
Last Year, Iryna Lis and Problesk took third place in the League. Chairman of the judges Dr Wojciech Markowski commented on the winning pair now: "The nice classical music benefited the harmony of the pair. Iryna interpreted the music in a way that accentuated the lightness and easiness of Problesk. Especially its passage received very high marks today as well as the very nice two tempi changes. Furthermore it looks like the older the horse is, the better its piaffe! The very fluent and easy performed transitions accented the lightness of the pair."
Unfortunately, Zaneta Skowronska, being second placed in the Central European League ranking before today's Final, was not able to gain some more points as her horse Romeo, who brought Zaneta to the Final, was sold in the meantime. Nevertheless Zaneta did receive a personal invitation of the Organizing Committee to ride her old horse Goldamos in the open dressage competition. Bad luck also occurred to Royal Black Label from Elena Kalinina, competing in last year's FEI World Cup™ Dressage Final in Amsterdam. She had to withdraw due to an injury from her horse.
RESULTS 
1. Problesk (Iryna Lys BLR) 71,40 
2. Rosenstraus (Petra Wilm GER) 68,25 
3. Special (Suzan de Klein AHO) 67,30 
4. Norblin (Johannes Augustin GER) 66,75 
5. Dombai (Svetlana Yevshchik BLR) 66,25 
6. Goldamus (Zaneta Skowronska POL) 66,00
7. Ford (Tatiano Yanson RUS) 65,60 
8. Disput (Irina Zhukava BLR) 63,20
9. Shannon (Robert Acs HUN) 60,45 
10. Randon (Michal Rapcewicz POL) 59,10
FINAL STANDING 
1. Iryna Lis (BLR)
2. Svetlana Yevshchik (BLR) 
3. Zaneta Skowronska POL 
4. Tatiano Yanson RUS
5. Irina Zhukava BLR 
6. Robert Acs HUN
7. Michal Rapcewicz POL  
Photo copyrighted: Andrzej Klimczuk ©
Back to the 2007 World Cup Index