KWPN Breeding News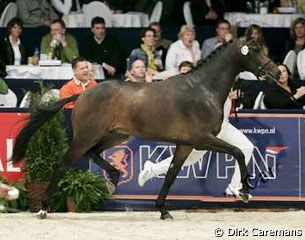 Zagreb, the Champion of the 2007 KWPN Stallion Licensing, achieved the new record selling price at the KWPN Select Sale, the auction of licensed and non-licensed stallion following the licensing in 's Hertogenbosch, The Netherlands.
In a tough bidding duel between buyers from Denmark and the U.S., it was stable manager Esben Möller of the Danish Blue Hors Stud who ended up with the horse. The knock down price for Zagreb was 430,000 euro.
Second most expensive horse was Zidane (Jazz x Voltaire) who sold for 120,000 euro to Tim Coomans. Jan Schep purchased Zoltan (Rousseau x Sultan) for 90,000 euro. Craig Rawlins and Kebie van der Heyden of Stal Korenbloem purchased Zoïst Utopia (Jazz x Krack C) for 80,000 euro.
The average price for a licensed stallion was 85,571 euro and 24,500 euro for a non-licensed stallion.
Related Link
Zagreb, Champion of the 2007 KWPN Stallion Licensing
Welcome Sir, Price Highlight of the 2006 KWPN Select Sale
KWPN Licensing Champion Wamberto Sold to the U.S.A.