Westfalian Breeding News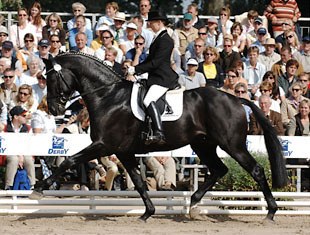 The 2007 Westfalian Stallion Licensing for Riding Horses was held in Wickrath, Germany, on January 11, 2007. Thirty-one stallions were shown and eleven were approved.
Despite the bad weather and strong winds, many stallions still presented themselves well. Some of the people had a very good day and the British wet weather seemed to bring the British some luck. Sarah and Tony Pidgley got both of their stallions approved and Fiona and Penny Bigwood showed four of their stallions to the committee and all four got licensed.
Dramatic, a 5-year old by Don Frederico x Weltmeyer, was the only stallion of the day to get applauded by the audience. After coming fourth at the 2006 Bunderschampionate and winning his 30-day test in Adelheitsdorf, this stallion is going from strength to strength. He came second the day before the licensing in the final leg of the 2006-2007 KWPN/KNHS Stallion Competition circuit, held at Indoor Zeeland in Goes. This is the highest placing for a non-KWPN in his division in the competition.
Dramatic has become one of the most talked about stallions and with his amazing paces he is one to keep an eye on. There have been many rumours about this horse being sold but as Fiona quotes "When you get to own a horse of this quality you are not going to let it go."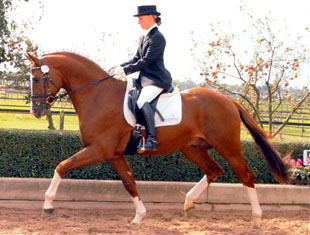 Lowelas, a Trakehner stallion by Hockey x Inter Graditz, was also approved. He came 3rd in the 70-day test in Marbach and has produced some lovely and very successful foals in 2005 and 2006. Fiona has started to ride him and will carry on his education towards Grand Prix. With Hockey producing more than 40 Grand Prix horses this goal should be obtainable.
The other two stallions owned by the Bigwoods were purchased at the Hanoverian stallion licensing in November. One is an amazing moving stallion by Romancero H x Wolkenstein II, called Ricochet and the other is Wizenzo, by Wolkentanz I x Sherlock Holmes.
Bigwood's young stallions are all based at Ferienhof Stücker with the Wilbers, where they are ridden by Jana Freund. "Sometimes things just seem to get better and better. After the result from Holland and now with Wickrath I am delighted with how things are going. It's a good start to the year!" Fiona said.
The station will be holding their own stallion show in Moorsele, Belgium, on 9th March 2007, where the above stallions can be seen as well as Lord Loxley, the winner of the Bundeschampionate as a 5-year old, Louis Le Bon, and their amazing ponies such as Don't Worry and Champion de Luxe.
Related Link: Trakehner Stallion Lowelas Sold to Fiona Bigwood