PSI Auction News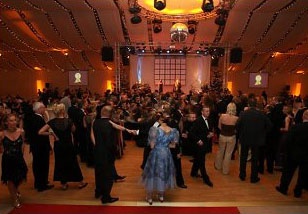 The collection of horses sold at the 27th PSI Auction of Elite Sport Horses in Ankum, Germany, produced a total turnover of more than 10 million euro. Organizers Ullrich Kasselmann and Paul Schockemohle sold 51 horses at auction and totalled 10,087,000 euro for them
. The auction generated a fantastic atmosphere and was preceeded by the fabulous annual gala ball that PSI hosts on location the evening before the sale.
The price highlight of the auction was that grey jumper stallion Caballero (by Champion du Lys) who sold for 800,000 to Taiwan. Ukrainian millionaire Alexander Onischenko purchased three jumper talents for 1,560,000 euro in total.
The price highlight of the dressage horses was the Westfalian Dankeschön (by Douceur x Ehrentusch). The 4-year old brown gelding sold for 450,000 euro to British based Wilfried Bechtolsheimer, who is a regular PSI customer. Bechtolsheimer's daughter Laura is a member of the British Grand Prix team and competed at the 2006 World Equestrian Games in Aachen this year aboard her father's Douglas Dorsey (by Donnerhall).
The quality of the collection of dressage horses was outstanding, offering for sale young horses with three outstanding basic gaits and trained to show their fullest potential in relaxation.
The average sales price for a PSI dressage horse was 160,522 euro; the average price for a PSI jumper was 228,398 euro.
Official website: www.psi-auktion.de
Back to the 2006 PSI Auction index