2006 Asian Games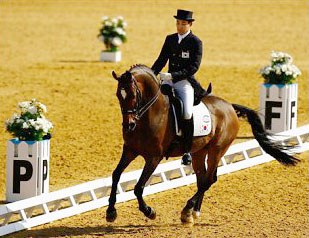 Jun Sang Choi successfully defended his dressage title at the Doha Racing and Equestrian Club on Tuesday 5 December, riding Dancing Boy II to gold in the Asian Games. The Korean, who had been the top qualifier for the final, earned a total of 68.602 points to take the title
from Yukiko Noge of Japan riding Lanchester Kouko on 67.115. Riding Charming 8, Mohd Qabil Mahamad Fathil of Malaysia claimed the bronze medal with his score of 67.041.
The 28-year old Jun Sang Choi had aimed to defend both his individual and team gold medals with his gelding Dancing Boy, which he rode in Busan 2002, and succeeded in the task. He won team and individual gold at the 2006 Asian Games in Doha, Qatar.
Choi is a member of the Samsung team, which sponsors several competition series around the world and keeps a stable of about 30 horses for dressage and jumping. Choi recently returned from a four-month stay in Germany where he trained with Juergen Koschel, who coached several teams at Olympic Games level.
Choi's team member Jung Kyun Suh finished fourth in the individual ranking. With seven medals in total to his credit, 44-year-old Suh is the most successful rider in Asian Games history. He finished 10th at the 1988 Olympic Games in Seoul, Korea, riding Pascal, formerly owned by the late Reiner Klimke of Germany, who still holds the Olympic record with six gold medals. Since 1988, Suh has maintained his connection with Germany, which he visits regularly to brush up his riding skills. At home, Suh trains on his own at stables where he keeps 21 horses and gives clinics to other dressage riders. At Doha 2006, he rode the 11 year-old stallion Caleostro, who he discovered in Russia two years ago.
Full Scores of the Asian Games here
Photo copyrighted: DAGOC - Doha-2006.org