British Dressage News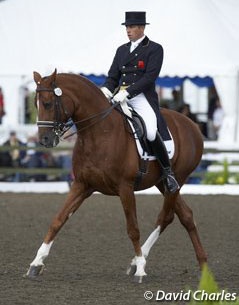 Former national champion Nicky Barrett will be taking over as junior and young rider team trainer while another former national champion, Peter Storr (pictured), will look after the pony riders in 2007.
Nicky has enjoyed success as a young rider herself, winning two under-21 European Championship team medals. She was national champion in 2002, reserve for the 2002 World Equestrian Games and short-listed for the 2004 Athens Olympics. Since taking a break to have a baby, Nicky has returned to top-level dressage, winning the Advanced Medium National Championships this year.
British Dressage's junior and young rider chief selector Sally Merrison said: "We're pleased to welcome Nicky. She has worked with Henk van Bergen, whom she is taking over from, which provides a valuable continuity of training and ideas, plus she has the respect of the riders and the strength to lead the teams forward."
Peter Storr took the national title in 2000 and 2001 and represented Britain at the 2001 European Championships and 2002 World Equestrian Games. Despite the retirement of his top horse Gambrinus, Peter has remained at the forefront of competitive dressage in this country, winning the Intermediaire I National Championships this year.
BD director of international teams David Trott said: "We're confident Peter will continue the success the pony teams enjoyed with former team trainer Ian Woodhead and are delighted to have two international riders taking on the training. I believe their experience will be a great asset to the teams."
Photo copyrighted: David Charles
Related Links
FEI Dressage Pony Manitu N Retired 
British Junior and Young Riders Teams Selected for 2006 European Championships