2006 CPE-DI Moorsele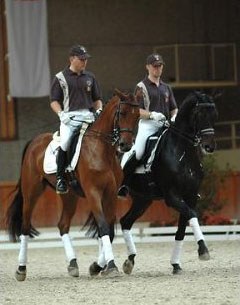 A unique experience was enjoyed by those who witnessed the very first combined FEI Dressage and Para Dressage competition in Moorsele (BEL) on 30 September – 1 October 2006. It took place during the Para Equestrian Paralympic qualifying event.
The competition involving national teams made up of a Dressage and Para Dressage rider was the very first FEI competition whereby the combined marks of both discipline riders produced a team score, the highest of which produced the winning pair. Each team rider performed their own individual test to music.
The trophy, which was donated by the FEI President HRH Princess Haya Bint Al Hussein, is a unique sculpture of two hands clasped together symbolizing the coming together of the two disciplines.
As part of the celebration a Pas de Deux to music was performed by two riders from the host nation during the gala evening on 30 September. Pictured you see the Belgian pair Bart Vermeir and Jeroen Devroe.
Such was the impact of this presentation, that it is likely, in the future, the competition format will change to having both riders in the team riding at the same time their own Free Style Pas de Deux to produce a score assessed by FEI Judges.
Marriette Withages, the FEI Dressage Committee Chairman, and Jonquil Solt, the FEI Technical Chairman for Para Equestrian, presented the trophy and awards to the winning team from The Netherlands.
Related Links
Read U.S. Para Equestrian rider Robin Brueckmann's journal about her trip to the CPDI Moorsele 
More info about the event at www.quadrille.bz