2006 World Championships for Young Dressage Horses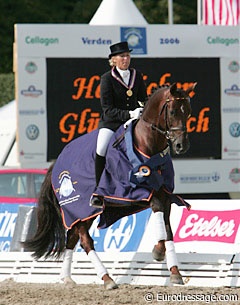 The Westfalian stallion Damon Hill NRW (by Donnerhall x Rubinstein) extended his World Champion's title this year by dominating the 6-year old division at the 2006 World Championships for Young Dressage Horses.
Last year, he won the 5-year old division under Ingrid Klimke's student Helen Langehanenberg. This year, Damon Hill reigned supreme under Klimke herself in the first and second round. The liver chestnut stallion had no serious competition from the other horses. Damon Hill's movements are extremely dynamic and elastic, and though he has that pony like expression to him, he was the big man of the show amongst the 6-year olds.
In the first round, the trot was engaged, uphill, balanced and well regulated. Klimke had to make minimal corrections and it all seemed to flow automatically. The transition from walk to canter was a bit hesitant but the flying changes were correct. Their overall 9.2 score put the strongly in the lead in the preliminary round.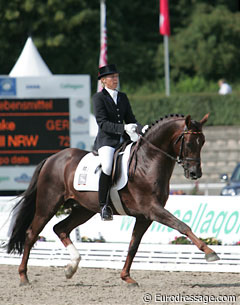 In the Finals the trot tour was lovely, especially the traversal movements were outstanding. In the extensions he pushed himself a bit high to avoid complete usage of the back, despite the fact that there was good opening of the frame and overtrack. The extended walk was outstanding but both walk pirouettes were mediocre. Three out of four flying changes were excellent, one went wrong.
The judges commented, "this is how one should ride. He was 98% completely concentrated on the rider," referring to the one failed flying change. He scored 9.5 for trot, 9.0 for canter, 8.9 for walk, 9.0 for submission and 9.8 for general impression. Overall: 9.24.
Klimke was really happy with her World Champion's title. "I'm very happy that this year I could ride him myself and wasn't injured," Klimke said. "Of course I felt some pressure to win and wanted to do as good as my student," she joked. "I'm ecstatic to have such a fantastic horse in my stable."
Back One Page / 2006 World YH Championship / Next Page of the Report