2006 Bundeschampionate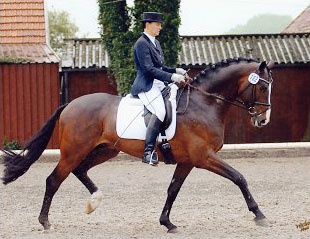 Happy Diamond and Dick Tracy have won the Bundeschampionate qualifying classes during the Elmloher Reitertage in Elmlohe, Germany, July 26-30, 2006.
Viola Abrahams and Happy Diamond reigned supreme in the 5-year old Dressage Horse division. Abrahams scored 8.3 aboard her Oldenburg bred Harvard offspring. Dirk von der Lieth placed second with Rotspon's Lady. This Rotspon daughter got 8.2 from the judges.
The 6-year old Dressage Horse division was won by Peter Koch and Dick Tracy. The pair already won the Nienburg Bundeschampionate qualifier and now they dominated the Elmlohe one as well. Dick Tracy (by De Niro) got 8.7 from the judges. Susan Pape and Riverside (by Regazzoni) ranked second with 8.5.
Photo copyrighted: Ruchel
Results
5-year old Dressage Horses
1 Happy Diamond - Abrahams, Viola - 8.3
2 Rotspons Lady - Lieth von der ,Dirk - 8.2
3 Liebe Lisa - Blanken,Stefan - 8.0
4 Lancietto W - Taylor,David - 7.5
5 Rivaner - Lübbeke,Annelie - 7.0
6 Awanos - Kindermann,Kornelia - 6.9
7 Sir Sunshine - Alkenings,Katrin - 6.7
8 Marillion - Maruhn ,Esther - 6.5
9 Donnatella B - Thaden,Andrea von - 5.5
6-year old Dressage Horses
1. Dick Tracy - Koch,Peter - 8.7
2. Riverside - Pape,Susan- 8.5
3. De la Vega - Maruhn ,Esther - 8.3
4. His Highness - Helldorff,Inga von - 8.1
5. Weltrubin - Schomerus,Dora - 8.0
6. Anastacia - Hein,Stefanie - 7.7
7. Carlyle - Coghlan,Nadia - 7.6
8. Rosa Rot - Schäfer-Trepkau,Isabelle - 7.5
9. Big Brother - Sudholz,Daniela - 7.3
10. Weltmarck - Bührig,Marco - 6.7
11. Despinya - Kindermann,Kornelia - 6.6
12. Wanthano - Arnd Erben- 6.5
Back to the 2006 Bundeschampionate Index