2006 Bundeschampionate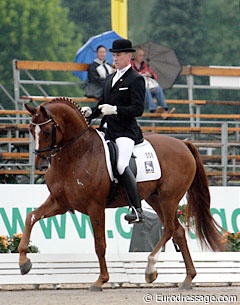 Donner Hit, Riwera OLD and Dablino were the grand winners of the Bundeschampionate Qualifier held at the Oldenburg Regional Championships in Rastede, Germany, July 19 - 23, 2006.
The 5-year old Dressage Horse division was split into two groups. The winner of group one was Donner Hit, a Donnerhall x Hill Hawk xx offspring, ridden by Ellen Bodenkamp. Donner Hit topped the leader board with an 8.8 score. Simone Kruse and Pik Harry (Pik Labionics x World Cup) placed second with 8.2.
Group two of the 5-year old dressage horse division was won by Kira Wulferding aboard Riwera OLD, a Welt Hit II x Noble Roi xx offspring. The lovely pair scored a winning 8.6.
The 6-year old division was won by Holga Finken (pictured, on Rusty) riding Dablino, a Hanoverian bred gelding by De Niro. Finken scored 8.8 and stayed far ahead of second placed Hannes Baumgart on Allerbeste, an Alabaster x Davignon bred mare. Baumgart got 8.4 for his ride. Sandra Kotter and the Westfalian licensed Farewell III (Fidermark x Rosenkavalier) finished third with 8.2. Hendrik Lochthowe finished second aboard Harli Seifert's Reserve Licensing Champion Rubin Cortes (Rubin Royal x Calmiro).
Photo copyrighted: Astrid Appels/Eurodressage
Results
5-year old Dressage Horses - Group 1
1. Donner Hit - Bodenkamp, Ellen - 8.8
2. Pik Harry - Kruse, Simone - 8.2
3. Dance with me - Westendarp, Ines - 8.1
4. Samarant - Engelbart, Anja - 8.0
4. Weltzauber - Hansen, Insa - 8.0
4. Raskovia - Pohlmann, Dirk - 8.0
4. Despina - Schrandt, Angela - 8.0
5-year old Dressage Horses - Group 2
1. Riwera OLD - Wulferding, Kira - 8.6
2. Rubin Cortes - Lochthowe, Hendrik - 8.2
3. World Hit - Burger, Katrin - 8.1
3. Dasino G - Möller, Eva - 8.1
12. Sunny Lady - Kramer, Catrin - 7.7
13. Brioni W - Wittig, Brigitte - 7.6
13. Fine Fynn - Frieling, Sandra - 7.6
15. Hernando - Schmitz, Gerd - 7.5
15. Happy Diamond - Abrahams, Viola - 7.5
17. Denigo - Coldewey, Julia - 7.4
17. Dutch Dormello - Piggen, Wilhelm-Jan - 7.4
19. Soubirous - Mormann, Hiltrud - 7.3
19. Dominus - Bültjer, Erik - 7.3
21. Planetopia K - Kools, Maren - 7.2
21. Dragon Dancer - Caunter, David - 7.2
23. Laurel - Bültjer, Erik - 7.1
24. Romanowa - Richter, Sabine - 7.0
25. De Fleur Noir - Piotrowski, Pia - 6.8
26. Hirtenfee - Romkowski, Janina - 6.5
27. Wendelin - Hellmers-Abrahams, Ilka - 6.4
28. Sir Sunshine - Alkenings, Katrin - 6.3
6-year old Dressage Horses
1. Dablino - Finken, Holga - 8.8
2. Allerbeste - Baumgart, Hannes - 8.4
3. Farewell III - Kötter, Sandra - 8.2
4. Devils bride - Hein, Stefanie - 8.0
5. Wanthano - Erben, Arnd - 7.6
6. Don Gregor - Fischer, Iris - 7.5
7. Big Brother - Sudholz, Daniela - 7.4
7. Roberto Cavalli - Piotrowski, Pia - 7.4
9. Puccini - Schoka, Anja - 7.3
10. Connection- Fischer, Bernhard - 7.2
11. Augenstern - Horstmann, Klaus - 7.0
12. Falkao - Dust, Christoph - 6.7
13. Shiraz - Raffel-Schwepe, Anja - 6.5
14. Diamond Gold - Kats, Wilco - 6.4
14. Regentino - Kleine Stüve, Ruth - 6.4
16. Diego - Müller, Sandra - 6.0
17. Licotus - Wilimzig, Anja - 5.8
18. Per Du - Kerner, Stefanie - 5.7
18. Ramina - Ee, Sina van - 5.7
20. Ra - Weichert, Dieter - 5.5
Back to the 2006 Bundeschampionate Index