2006 European Junior and Young Riders Championships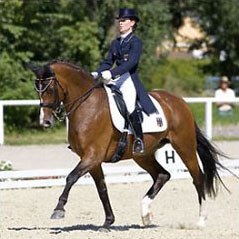 Today the sisters Carolin and Verena van der Linde from Germany showed a great performance. They both lead the team competition after day one at the European Junior and Young Riders Championships in Stadl Paura, Austria.
In the morning Carolin and her horse Feinsinn NRW achieved 70,844% in the Young Riders team test. Verena, her younger sister, got 71,650% for a great performance with her horse Mitchell in the afternoon in the junior riders team championship test.
In the Juniors division the team from Germany with Verena van der Linde / Mitchell and Katarina Winkelhues / Weltmelodie is in the lead. They have only 0,15 percent points more than the second placed team from Netherlands with Marrigje van Baalen / BMC Inspekteur and Chantal van Lanen / Beaujolais.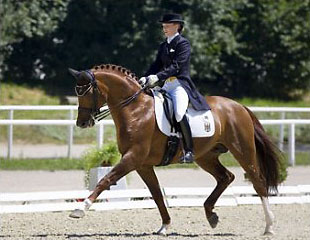 In the Young Riders class the situation is the opposite way around and the prominence is bigger. The Netherlands are leading with Lorraine van de Brink / Murdock 9 and Inge Verbeek / Quidor on an exactly 5,823 percent points advantage. In second place there is the German Team with Theresa Wahler / Ray of Light and Carolin van der Linde.
On Thursday the second part of the team competition will be ridden. In the category Young Riders the German Team maybe will have a problem to win the gold against the Netherlands. In the Junior riders team competition there will be more tension because the field for the medals lies entirely open.
Photo courtesy: Michael Rzepa - www.horsepictures.at
Back to the 2006 European Junior/Young Riders Championship Index