2006 Bundeschampionate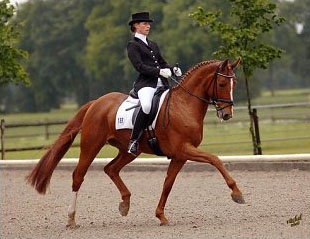 Locksley and Funny Girl were the winners of the Bundeschampionate Qualifier held in Hannover, Germany. A large group of 5-year old and a more modest group of 6-year olds contested in Hannover for a ticket to the Bundeschampionate Finals in Warendorf in September.
Susanne Ersil claimed her second victory with the licensed Hanoverian stallion Locksley in a 5-year old Dressage Horse Bundeschampionate Qualifier. First the pair won the Nienburg qualifier with 8.60 but in Hannover their score was 8.30. They topped the leader board and referred Stephanie Jansen and Pretender to a second place. Jansen achieved 8.20 aboard her Hanoverian Prince Thatch xx x Weltmeyer offspring. Sissy-Nadine Braband and Wellissima landed a third spot with 8.10.
In the 6-year old Dressage Horse division, Norwegian Isabel Bache steered her 2005 Bundeschampionate silver medallist Funny Girl (by Federweisser x Alonso) to victory. The pair scored 8.10 and stayed far ahead of second placed Anna Sophie Fiebelkorn. She scored 7.60 with Don Aurelio. Hannes Baumgart and Allerbeste ranked third with 7.50.
Photo copyrighted: Ruchel
Results
5-year old Dressage Horses
1. Susanne Ersil - Locksley - 8.30
2. Stephanie Jansen - Pretender - 8.20
3. Sissy Nadine Braband - Wellissima - 8.10
4. Stefan Blanken - Liebe Lisa - 8.00
4. Heike Kemmer - Riedinger - 8.00
4. Sabine Fikus - Lord Chestnut - 8.00
7. Leonie Bramall - Coriano - 7.60
8. Sandra Frieling - Fine Fynn - 7.40
9. Esther Maruhn - Marillion - 7.30
10. Arndt Honke - Waleska - 7.20
11. Klarissa Alexandra Liss - Dimaggia - 7.10
12. Philipp Colin Tusch - Don Felice W - 7.00
12. Sandra Frieling - Wolkenzauber - 7.00
12. Susanne Tessarek - West Point K - 7.00
15. Claudia Sedlacek - Welfenkrone - 6.90
16. Stefan Blanken - Louisdor De - 6.80
17. Daniela Schunko - La Fenice - 6.70
17. Rudiger Loer - Dornroschen - 6.70
19. Andreas Homuth - Desperado Cana - 6.60
20. Sigrid Asche - Furst Pless - 6.50
20. Anna Sophie Fiebelkorn - Don Walesko - 6.50
22. Jeanine Pagel - Winocenti - 6.30
23. Lena Boehnke - Dubonnet - 6.00
6-year old Dressage Horses
1. Isabel Bache - Funny Girl - 8.10
2. Anna Sophie Fiebelkorn - Don Aurelio - 7.60
3. Hannes Baumgart - Allerbeste - 7.50
3. Hans Peter Klaus - Rudi XXL - 7.50
5. Dora Schomerus - Weltrubin - 7.40
5. Bastian Konzag - Buddy Holly - 7.40
7. Holga Finken - Roccella - 7.10
7. Carola Koppelmann - Rom - 7.10
9. Iris Scheminowski - Residenz - 7.00
9. Sylla Holtkamp - Bajanus - 7.00
11. Hans Jurgen Armbrust - Thanksgiving - 6.90
12. Claudia Sedlacek - La Diva - 6.80
13. Daniela Sudholz - Big Brother - 6.70
Back to the 2006 Bundeschampionate Index