2006 Bundeschampionate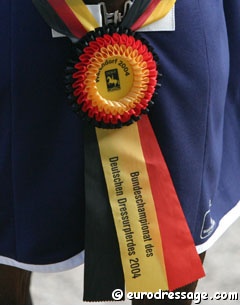 Locksley and Dick Tracy were the grand champions of the Bundeschampionate Qualifier held in Nienburg, Germany, June 23-25, 2006. An impressively large contingent of riders was present in Nienburg to obtain the coveted entry ticket for the Bundeschampionate finals
in Warendorf. Thirty-six 5-year olds and eighteen 6-year olds were competing in both divisions.
Susanne Ersil and the licensed Hanoverian stallion Locksley strode to victory in the 5-year old Dressage Horse division. The pair scored 8.6 and stayed 0.3 points ahead of second placed Ines Westendarp on the Oldenburg bred Dance with Me (by Dream of Love). Holga Finken and the Hanoverian mare La Perla (by Londonderry) finished third with 8.2 and tied with Ulf Möller on the Donnerhall offspring Dasino G.
Three 6-year olds scored 8.0 or higher and can travel to Warendorf for the finals. The winner of the 6-year old division was Dick Tracy, an Oldenburg bred De Niro son, presented by Peter Koch. The duo scored 8.7 and referred Hannes Baumgart on Big Brother (by Brentano II) to a second place. Baumgart got 8.2 for his ride on the Hanoverian. American Carrie Schopf, who is based in Bremen with her German husband Bernd, placed third on De Value (by De Niro) with 8.0.
Results
5-year old Dressage Horses
1. Locksley - Ersil, Susanne - 8.6
2. Dance with me - Westendarp, Ines - 8.3
3. La Perla 1- Finken, Holga - 8.2
3. Dasino G - Möller, Ulf - 8.2
5. Karolinger - Lühring, Maike - 8.1
5. Roberto - Möller, Ulf - 8.1
7. Rascalino - Witte, Wolfhard - 8.0
8. Liebe Lisa - Blanken, Stefan - 7.8
9. Wellissima - Braband, Sissy-Nadine - 7.7
9. Coriano - Bramall, Leonie - 7.7
11. Florentino - Beckmann-Meßfeldt, Cathrin - 7.6
11. Do it again - Hansen, Insa - 7.6
11. West Point-K - Tessarek, Susanne - 7.6
14. Weltzauber - Hansen, Insa - 7.5
14. Rotspons Lady - Lieth von der, Dirk - 7.5
16. Dominus - Möller, Ulf - 7.4
16. Wolkenzauber F - Frieling, Sandra - 7.4
16. Wilson - Baumgart, Hannes - 7.4
19. Fiorentino - Kuntz, Hella - 7.3
19. Winocenti S - Pagel, Jeanine - 7.3
21. Renoir K - Hasselbrink, Christian - 7.2
21. Dance of the Lords - Kochskämper, Nicole - 7.2
21. Dimaggia H - Liss, Klarissa-Alexandra - 7.2
24. Fine Fynn - Frieling, Sandra - 7.1
24. Saigon - Tusch, Philipp-Colin - 7.1
26. Dreamboat - Deinzer, Nicole - 7.0
26. Waleska - Hönke, Arndt - 7.0
26. Don Felice W - Tusch, Philipp-Colin - 7.0
29. Hennessy - Harvard Brunkhorst, Juliane - 6.9
30. Dornröschen - Westendarp, Johannes - 6.8
31. Fürst Pless - Asche, Sigrid - 6.7
31. Dixieland - Kochskämper, Nicole - 6.7
33. Rivaner - Lübbeke, Annelie - 6.6
34. Welfenkrone - Sedlacek, Claudia - 6.5
35. Red Rubin - Swoboda, Martin - 6.2
36. Wianizza - Meyer, Stefanie - 5.9
6-year old Dressage Horses
1. Dick Tracy - Koch, Peter - 8.7
2. Big Brother - Baumgart, Hannes - 8.2
3. De Value - Schopf, Carrie - 8.0
4. Don Aurelio - Fiebelkorn, Anna-Sophie - 7.8
4. De la Vega - Maruhn, Esther - 7.8
6. His Highness - Helldorff, Inga von - 7.7
6. Do it my way - Henschke, Miriam - 7.7
8. Dainty Diva - Baumgart, Britta - 7.6
8. Don Gregor - Fischer, Iris - 7.6
10. Roccella - Fiebelkorn, Anna-Sophie - 7.5
11. Funny Girl - Bache, Isabel - 7.3
12. Rosenstolz - Bramall, Leonie - 7.2
12. Residenz - Scheminowski, Iris - 7.2
14. Lucky Lady- Strathoff, Oliver - 7.1
15. Auric's Märchenprinz - Bramall, Leonie - 6.8
16. Don-Dior - Borchers, Wiebke - 6.7
17. Walkie-Talkie - Tessarek, Susanne - 6.5
18. Bolivar - Platen, Ute von - 6.4
Back to the 2006 Bundeschampionate Index