2006 CDN Bad Salzuflen
Last weekend, one of the most important national German dressage shows of the year took place in Bad Salzuflen, Germany. For the first time this year, all German A-team members were competing against each other in the race to capture a place on the team
for the 2006 World Equestrian Games in Aachen. With the best German combinations lined up for the Grand Prix and Special, any dressage enthusiast in the area gathered round the main show ring at Bad Salzuflen to watch them.
You could have heard the proverbial pin drop when Nadine Capellmann and Elvis entered the arena in Bad Salzuflen Saturday afternoon May 6, 2006. Even though everyone who didn't have a horse to prepare for the ring was there, everything went completely quiet. Not that that would have been necessary, given that Elvis may be one of the youngest horses currently competing internationally, but he is also one of the coolest. He does, however, not have much experience in competitions yet, so there were little devils in the details; he wouldn't find his rhythm in the piaffe, his walk wasn't what it could have been, but then again, his extended trot and canter and the passage were spectacular.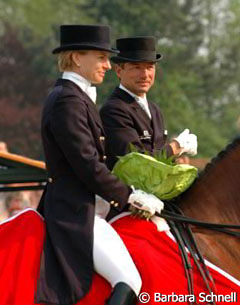 The pair took the well-deserved lead with 1800 points or exactly 75%, which nobody managed to challenge -- until Martin Schaudt and Weltall entered the arena an hour later. Weltall presented himself calm and collected -- the first extended trot was a bit top-heavy, and the rhythm of the canter left a tad to be desired, but his piaffe-passage tour was absolutely superb. So, at first, his result came through with 1798 points. Then, one ride later, it was corrected ... with much ado by the stadium speaker, whose words were received by a once more completely quiet crowd ... to 1800 as well. So they won together.
Isabell Werth's Warum nicht scored 74,71. He feels more and more at home in the arena, keeps showing solid work and will be a good choice for the WEG.
In the Special on Sunday, Capellmann proved that Elvis is one of a kind. This time she won with an unquestioned 1.6% lead ahead of Hubertus Schmidt aboard Forest Gump followed by Martin Schaudt and Weltall.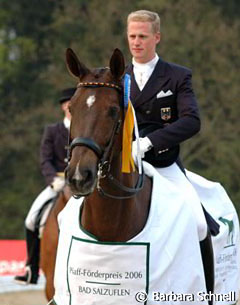 In the Piaff Förderpreis qualifiers, last year's Young Riders triumphed in an interesting field. Mathias Alexander Rath, who is a delight to watch on Renoir Unicef, was the undisputed winner of both tests, followed both times by Jessica Werndl and Duke, and then Anna Katharina Lüttgen on Duvalier.
In the Pony Derby we got the same winner as last year, but with a different pony. Annabel Frenzen, who won with Flamenco Star (by Flying Dream) in 2005, brought her second pony, Going Top (by Going East) this year. Like his father, the handsome bronze chestnut is a fighter, who doesn't always fight for his rider, but when he does, he deserves his name.
The two qualifiers were won by Bernice Hoogen and Dornik Double, who has been training at Isabell werth's stable for the past months and is on their well-deserved way to the top as well. The third pair that qualified for the finals were pony sports veterans Karina Isselhorst and her Virgil. After the final round, which is decided by having all three riders test on all three ponies, Frenzen once more came through as the strongest rider, boosting her with the exact confidence she will need next week at the Preis der Besten in Warendorf. Dornik Double won the title of Best Pony.
Text and photos copyrighted: Barbara Schnell
Related Links
Scores of the 2006 CDN Bad Salzuflen
Barbara Schnell's Photo Report of the 2006 CDN Bad Salzuflen
Barbara Schnell's Photo Report of the 2006 Rhinelander Preis der Besten Qualifier