2006 CDIO Saumur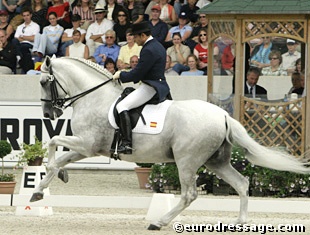 A big delegation of Spanish riders is travelling to the 2006 CDI Saumur to represent Spain in all levels of the competition. Sixteen Spanish riders have headed north to the National Riding School of the Cadre Noir in the forest of Saumur, France.
The most exciting news is that two of Spain's anchor horses, Invasor and Beauvalais, will be back in the show ring.
At Grand Prix level, Beatriz Ferrer-Salat will be riding her medal winning Beauvalais, who is returning to CDI competition for the first time this 2006 show season. Rafael Soto will be showing Invasor again for the first time since the 2004 Olympic Games in Athens. Team mates Ignacio Rambla (Distinguido) and Jose Ignacio Lopez Porras (Nevado Santa Clara) will also ride the big tour.
Competing at small tour level are Juan Antonio Jimenez Cobo (Piconero), Lauro Agulió (@Uxtro), Jose Antonio García Mena (Bernstein Las Marismas), Nuria Vila (Alpha) and Beatriz Ferrer-Salat (Peter Pan).
In the youth riders classes, CDI-JYR, the spanish performers are juniors Artur Alvarez, Maria Albiñana, Alex Cabanes and Carlos del Castillo, and young riders Carmen Naesgaard, Juan Antonio Vazquez, Pedro Gonzalez Khun and Chloe Morris
Chloe Morris was the Spanish participant to show in first Young Riders World Cup last year. Carmen Naesgaard and Alex Cabenes won the team bronze medal at the 2005 European Championship.
Photo copyrighted: Astrid Appels/Eurodressage
Related Links 
Back to the 2006 CDI Saumur Index 
Dutch and Belgian Riders Selected for CDI Saumur