2006 World Cup Finals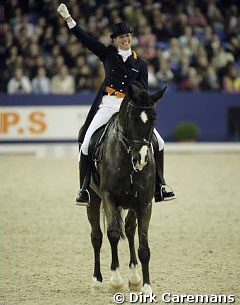 Local heroine Anky van Grunsven swept to an emphatic victory in the final leg of the FEI World Cup at Indoor Brabant, 's-Hertogenbosch, partnering her reigning champion Salinero to a phenomenal, record-breaking score close to 88 per cent.
"Even with the feeling I had, you can never be sure of the score", said van Grunsven. "I'm not sure exactly what is the key but over the last few shows Salinero has felt more confident, our communication is getting better and better, and in the training now we have the chance to work more on the details. I really have the feeling that he is getting older and wiser", she said of the 12-year-old who only two years ago won his Olympic gold.
"It was magical", said Jennie Loriston-Clarke, who judged at B. "Salinero was so much more relaxed, so off the ground, and Anky rode so well to the music." All the technical scores were over 80 per cent with the artistic all over 90 percent including an incredible 96 from Bernard Maurel at E.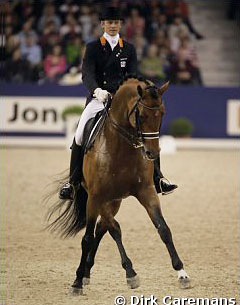 Edward Gal, the runner up for last year's Las Vegas Final, laid down his gauntlet for this year with second place on Lingh. " It was fantastic" enthused Gal. " The atmosphere was amazing. The crowd was so excited you could hear them as you came in. Together with hearing the scores, that made me really keyed up to try everything. And when it works, that's the best feeling."
Lingh will now have a couple of days off then two easy weeks before Gal picks him up in preparation for Amsterdam. " We have our routine now, and while last year his breeding career was new and exciting, he is getting more used to it so he is concentrating more on me in the test.
Close on his heels was former World Cup champion Isabell Werth on her up-and-coming talent Warum Nicht FRH. " Isabell rode a lovely test", said Mrs Loriston-Clarke. " The music was lovely and the horse has improved so much since Olympia."
Werth, who also won the Grand Prix Special tour with Satchmo, was understandably delighted. "He was brilliant", she said of 'Hannes' (as Warum Nicht is known), who will be her ride for the Final. " Over the season he has just got better and better with more experience. He is no longer unbalanced by the odd flower or shadow, he is so sporting, a real athlete."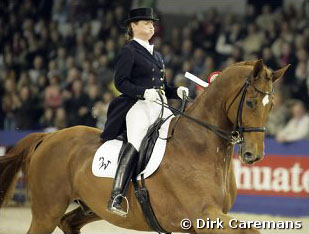 Ghislain Fouarge, president of the judges at C, commented: " This was super sport. The atmosphere reminded me of Las Vegas. People were very excited. Salinero was much more relaxed. He entered in passage and halted" (van Grunsven had walked him in previously in order to keep him calm to stand still) "and the rest was really great."
"Edward Gal's Lingh was back on form, with a lot of expression, and Gal took a lot of risk. Only one piaffe to passage transition was a little disappointing." On Werth and Warum Nicht he added, " This was the best test I have seen from them. The horse is improving so much. The extended trot is very expressive and the collection is also much improved." Jennie Loriston-Clarke also picked out Imke Schellekens-Bartels' ride on Sunrise for fourth place - on a personal best and over 4 per cent above their previous scores - and Laurens van Lieren's " very harmonious" test with Hexagon's Ollright for fifth.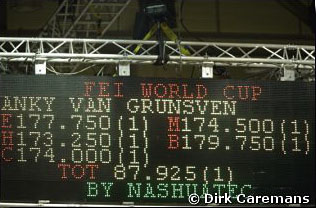 With eight places allocated for the top riders of the Western European League, competition at this final stage was fierce, and of the highest standard. Among the eight qualifiers for Amsterdam is the young British talent Laura Bechtolsheimer, in her first grand prix season with her parents' Douglas Dorsey. "That is really exciting", Jennie Loriston- Clarke commented. " It was a nice, free flowing test, but some small mistakes and the collected walk brought them down a little."
All remarked on the incredible atmosphere at the Brabanthallen. And with the best competition of this FEI World Cup season as a warm-up, at this rate, Amsterdam is looking a very, very exciting prospect indeed.
By Bernadette Faurie
Photos copyrighted: Dirk Caremans - Check out Dirk's new database with thousands of pictures.
Back to the 2006 World Cup Finals Index