KWPN Breeding News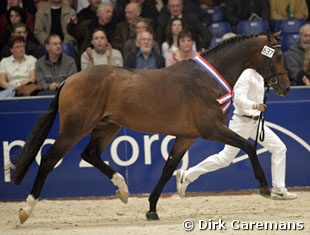 Wamberto, a bay Rousseau x Voltaire son, became the 2006 KWPN Licensing Champion in 's Hertogenbosch, The Netherlands. The dark bay colt stood out with his power and suppleness and was also the crowds' favourite.
Wamberto is bred by L. Heida and owned by Adriaan van der Goor and the breeder.
Reserve Champion was Winston, a Jazz x Michelangelo, who is bred by M.A. Habraken and owned by H. de Koning from Heerjansdam. The third place in the champion's ring was allocated to a Krack C x Pion offspring, followed by a Rhodium x Goodtimes in fourth place and a Flemmingh x Contango in fifth.
The champion of the licensing for show jumping talented colts was Waldeck, a Lupicor x Landgraf. He's bred by S.J. de Bruijn and owned by Hans Horn. It's the third year in a row that Horn has presented the show jumping champion at the KWPN licensing. Reserve show jumping champion colt was Waterford VDL, a Corland x Nimmerdor offspring, bred and owned by VDL Stud.
The licensing committee selected a huge group of stallions that get the opportunity to win a full breeding license if they pass the Stallion Performance Test in Ermelo. The stallions which passed the licensing in 's Hertogenbosch are: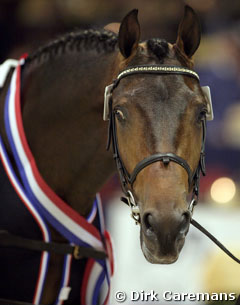 33 Cardento x Mr. Blue
51 Cash and Carry x Corrado I
52 Cash and Carry x Carpaccio
110 Contendro x For Pleasure
264 Indoctro x Concorde
282 Indoctro x Ramiro Z
744 Stakkato x Libero H
802 Polydor x Weinberg (Pokemon)
804 Ramiro Z x Pilot (Rascin) 
847 Chin Chin x Pilot (Chiquitin la Silla) 
46 Casco x Corleone
58 Cassini x Lucy Lionell
119 Corland x Great Pleasure
275 Indoctro x Corland 
385 Lupicor x Purioso
782 Carthago x Amor (Carthino)
794 Heartbreaker x Carthago (Harley VDL)
824 Colman x Contender
130 De Niro x Flemmingh
366 Lord Loxley x Ferragamo
371 Lord Sinclair x Landgraf I
586 Rhodium x Jetset D
593 Rhodium x Zirkoon
600 Rhodium x Jetset D
717 Sir Sinclair x Havidoff
722 Sir Sinclair x Fruhling 
726 Sir Sinclair x Nurprimus
482 OO Seven x Flemmingh
595 Rhodium x Goodtimes
639 Rousseau x Montecristo 
742 Son de Niro x Ronaldo
786 Day Dream x Rubinstein (Decor Dreamcatcher)
61 Cavalier x Corofino
91 Clinton x Indoctro
106 Contender x Ramiro Z 
118 Corland x Nimmerdor 
224 Guidam x Wolfgang
252 Holland x Iroko
278 Indoctro x Nimmerdor
285 Indorado x Ahorn
381 Lupicor x Lancelot
383 Lupicor x Landgraf I 
472 Oklund x Hemmingway
512 Ovidius x Nimmerdor
701 Silverstone x Notaris 
756 Tangelo van de Zuuthoeve x Voltaire
823 Colino x Landon
23 Cabochon x Apollonios xx
135 Dolany x Linaro
167 Flemmingh x Contango
220 Gribaldi x Krack C
302 Jazz x Vincent
306 Jazz x Michelangelo 
338 Krack C x Ulft
339 Krack C x TCN Partout
342 Krack C x Pion 
603 Rhodium x Cocktail 
637 Rousseau x Voltaire
647 Rousseau x Jazz
828 Ferro x Havidoff
Photos copyrighted: Dirk Caremans
Related Links
Welcome Sir, Price Highlight of the 2006 KWPN Select Sale 
Coverage of the 2005 KWPN Stallion Licensing and Select Sale 
Ustinov and Uptown, 2004 KWPN Stallion Licensing Champions
Tornado, Champion of the 2003 KWPN Stallion Licensing
First KWPN Select Sale at 2001 KWPN Stallion Licensing
Symfonie, 2002 KWPN Licensing Champion
Paddo, 2000 KWPN Stallion Licensing Champion