2005 European Dressage Championships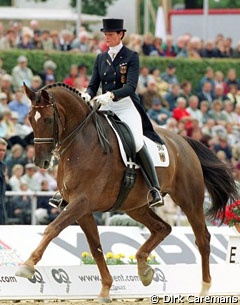 At the moment, seven cities have officially declared to the FEI their willingness to host the 2005 European Dressage Championships. Five of them have notified the FEI on paper about their candidature:
Hagen (GER), Aachen (GER), Arnheim (NED), Nijmeghen (NED) and The Hague (NED). Two of them have had a telephone conversation with the FEI to state that their equestrian facilities are available to host the Championships. Those are Saumur (FRA) and Lisbon (POR).
The exact location has not yet been decided. "We have to wait for the FEI Executive Board to meet again this week," FEI Dressage Committee chairwoman Mariette Withages told Eurodressage. "The decision will be made this week and, hopefully, at the beginning of the week."
Withages also mentioned that she preferred the Championships not to be postponed to a later date, but hosted on the official dates (July 27-31, 2005). "It's better for the horses. Everyone has been training to peak at those dates. The horses will go back into a dip if the championships take place later."
More news on the European Dressage Championships the upcoming days.
Photo copyrighted: Dirk Caremans
Eurodressage On The Scene of the 2005 European Championships