2005 Bundeschampionate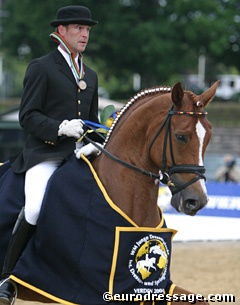 At the Westfalian Bundeschampionate qualifier hosted at Stable Silverthof in Oer-Erkenschwick, Olivier Oelrich, Arnd Erben and Damian Hallam were the winners of the Bundeschampionate qualifying tests.
In the first group of five year olds, Oliver Oelrich rode the mare Shikita to a winning score of 8.40. He beat Helen Langehanenberg on Roman Lifestyle (8.00) and Michael Potthink on Leandro (7.60). The second group of 5-year olds was won by Arnd Erben on Langazzo with 8.20.
In the six year old division Damian Hallam reined the Oldenburg offspring Spirit Freedom (Sion x Figaro) to victory by achieving an 8.50 mark. He outclassed American Christine Traurig on Limited Edition, a Rhinelander stallion by Lord Sinclair.
Results
5-year olds - Group 1
1. Shikikita - Oelrich,Oliver - 8.40
2. Roman LifestyleW - Langehanenberg,Helen - 8.00
3. Leandro - Potthink,Michael - 7.60
4. Cacharel - Strässer,Peter - 7.40
5. Patmos - Koppelmann,Carola - 7.30
6. Wanthano - Wiens,Christiane - 7.20
7. Lancelot - Egbers,Sabine - 7.10
8. Goldschmidt - Freund,Jana - 7.00
8. Davenport - Helmig,Ann-Kathrin - 7.00
10. Donner Werther - Schnell,Stefanie - 6.90
11. Lord Optimist - Klaassen,Marlene - 6.80
11. Die Diva - Horstmann,Anne - 6.80
11. Lord Voltaire - Hansen,Insa - 6.80
14. Donlino - Langehanenberg,Helen - 6.70
15. Duncan Mac Leod - Zelobowski,Vera - 6.50
15. Don Gregor - Fischer,Iris - 6.50
17. Donneradel - Klaassen,Marlene - 6.40
17. Rossinol - Rund-Köllner,Gabriele - 6.40
19. Rudi's Memory - Bettenworth,Katrin- . 6.20
19. Peter Pfeffer - Bürger,Mandy - 6.20
21. Andiamo B - Rickert,Rudolf - 5.50
21. Dontary - Daume,Christina - 5.50
5-year olds - Group 2
1. Langazzo - Erben,Arnd - 8.20
2. Dohrynin - Strässer,Peter - 7.70
3. Der Coole - Dorlöchter,Anja - . 7.50
4. Donnerwetter - Wiebusch,Marion- 7.40
6-year olds
1. Spirit Freedom - Hallam,Damian - 8.50
2. Limited Edition - Traurig,Christine - . 8.30
3. Hinnerk - Koppelmann,Carola - 8.10 TRAK Buddenbrock x Ravel
4. Dornfelder - Egbers,Sabine- 8.00 OLD Donnerhall x Pik Bube
4. Responsible - Langehanenberg,Helen - 8.00
6. Franklin - Boening,Ilka Dr. - 7.60
6. Columbus - Kröger-Rück,Ute - 7.60
8. Diomedes - Plaas-Beisemann,Heinrich - 7.30
8. Ravienne - Henschke,Miriam - 7.30
Back to the 2005 Bundeschampionate Index