2005 World Championships for Young Dressage Horses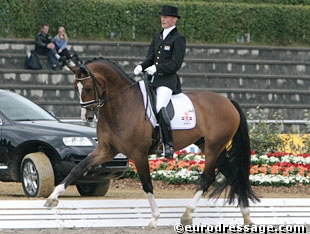 The Dutch Equestrian Federation is organizing the its first training session which counts as a selection trial for the 2005 World Championships for Young Dressage Horses held in Verden, Germany, this first weekend of July.
On Monday April 25, 2005, eleven 5-year olds and and eight 6-year olds will be present ed at the Federation training center in Ermelo, The Netherlands, for a first appraisal.
The selected 5-year olds for the training session are:
Kern's Tadao Ando (by Obelisk) - Niels Valkenburg
Tango (by Jazz) - Hans Peter Minderhoud
Tamarinde (by Jazz) - Niels Bax
Hexagon's Truppa (by Rubiquil) - Laurens van Lieren
L'Equus Tiberion (by Guidam) - Mirjam den Boer
Touche (by Sandro Hit) - Miranda Rongen
Turbo Magic (by Cabochon) - Tommie Visser
Tuschinski (by Krack C x Pion) - Yvonne Copal
Sandreo (by Sandro Hit) - Hans Peter Minderhoud
Travolta's Nieuwmoed (by Olivi) - Judith Ribbels
Totilas (by Gribaldi) - Jiska van den Akker.
The Dutch Warmblood 6-year olds
Spargo (by Krack C) - Theo Hanzon
Lipika Special Gift (by Montecristo) - Liseon Kamper
Special D (by Metall) - Diederik van Silfhout
Simply the best (by Contango) - Vera Kersten
Summer (by Darlington) - Judith Scholte
Skyline (by Democraat) - Anne van Uytert
Sandokan (by Ferro) - Marloes Maan
Sensation (by Jazz) - Hans Peter Minderhoud.
Dutch Grand Prix rider Edward Gal is also selected to ride his 6-year old Sisther de Jeu (by Gribaldi), but because he is at the 2005 World Cup Finals in Las Vegas, he cannot be present at this first official training session.
Right before the training session starts in Ermelo, several Dutch warmblood horses that missed the trial on April 7 will be presented for qualification for the next training session.
Holland is allowed to send five horses per age group to the World Championships.
Photo copyrighted: Astrid Appels/Eurodressage
Related Link
Eurodressage Coverage of the 2005 World Young Horse Championships