2005 Sunshine Tour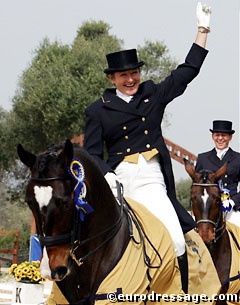 While Brit Wayne Channon performed a true veni-vidi-vici in Spain, British small tour rider Linda Hoad closely followed in his wake and became the real shooting star at the Sunshine Tour during the third show weekend.
Aboard the 12-year old Swedish warmblood Parac, Hoad worked her way up from a 12th place in the Prix St Georges (62,917%) to a seventh place in the Intermediaire I (63,500%). Her Sunshine Tour came to a climax on the final show day, when she placed second in the Intermediaire I kur to music with a solid 68,650%.
Relishing her runner up position on the leader board, Hoad was ecstatic about her freestyle test. It was an experimental ride as she had never before done an Intermediaire I kur. "I had to improvise on my Prix St Georges music, which meant I had extra time," Hoad explained. "Wayne and Debra [Channon] were very helpful and told me I could put in extra pirouettes and flying changes, so I did."
In the Kur to Music, Hoad was not even 1% adrift from the winning score of 69,50% achieved by German Sylvia Zimmer. Trained by Antonie de Ridder, Zimmer had been lingering in the top ten in the Prix St Georges and Intermediaire I, but really rose to the occasion in the Kur with a correctly executed programme. Her 11-year old Westfalian gelding Anjou (by Arlinus out of Melissa) stayed well in the frame and maintained good cadence throughout the test.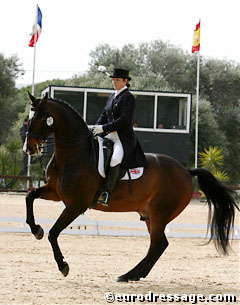 Hoad's kur, which features classical music by Strauss and Bizet, exemplified technical difficulty. Though not an extravagant mover, Parac showed flawless tempi changes every three and two strides both on the diagonal and on the circle. His pirouettes are a delight to watch and the horse remained in the frame and uphill throughout the test. "It all came together; everything I have been concentrating and working on," Hoad said. "I like riding to music and the technical points are our strong points."
The Spanish Viola von Lazar placed third in the kur aboard her delightful Hessian branded Rubiosa. The bay mare (by Rubistar out of Furiosa) is true eye candy to watch and the judges honoured Von Lazar's ride with 68.03%.
The Sunshine tour was Hoad's first international competition and it has been a very core shaking experience for her. "The first week was absolutely nerve wrecking, the whole scene is different," she said. "I was in deep despair two weeks ago. I thought everything was against me, but I kept on working, training and concentrating and then everything came together this week.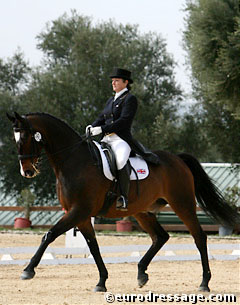 The open attitude of the judges towards the riders enabled Hoad to improve her performances throughout the weeks. "I was able to frankly discuss with the international judges what they wanted to see. They will tell you exactly what to do to improve your score. It was very useful, because I learnt that you do not need flashy movers to score, but horses that are technically correct. When it comes down to riding a test, all the basics apply."
Hoad credits her trainer of two years, German Holger Munstermann, for her current riding proficiency. "He has a consistent, methodical system of correct training," Hoad explained. "He flies in every two months and gives clinics at the yard."
Based at Frensham Manor in Surrey, Great Britain, Hoad runs a private dressage training center that takes horses for training and livery. She is a list 2 judge, striving to become list 1, and hosts affiliated dressage shows on a regular basis at her farm. Her groom in Spain, Andrew Phazey, teaches at Frensham and trains his own horses with Munstermann as well.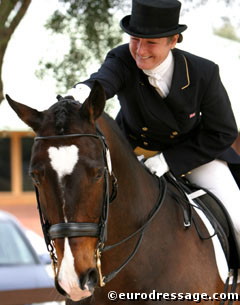 At the Sunshine Tour, Hoad's equine 'partner-in-triumph' was Parac, a dark bay Swedish warmblood gelding by Chirac out of Paloo, which she found as a five-year old in England. She trained him up to small tour level and credits his easy, intelligent character for the great progress he makes. "The more difficult the movement, the better he is," Hoad declared. "Hard work is easy for him. He scores 8's for his tempi's and 9's for his pirouettes. His canter is international standard."
Parac has already exceeded Linda's expectations and she has a second ticket to international fame coming along in the Hanoverian gelding Placido. "We bought Placido at Karin Rehbein's in Germany in May 2004. He already won twice in the Prix St Georges in England and my aim is to bring him out at Grand Prix level." Hoad also has another top quality 6-year old coming along, Findus by Fidermark.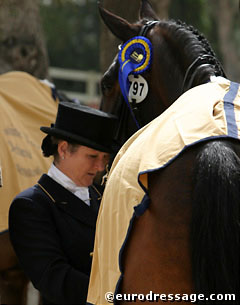 Having tasted international glory, Hoad is eager to proceed with her show career. "I want to ride more international competitions and continue with Parac. I got very good marks from all judges and he has got so much in him I didn't even know it was there." With an invitation in her pocket to go to the CDI Lipica, Hoad hopes to add Saumur, Barzago and Pompadour to her schedule. "Great Britain has to get away from the idea that we are going to embarrass ourselves. Our sport benefits from the international exposure."
Hoad is well traveled having lived in Africa from 1995 to 2000. Craving a change in lifestyle, she moved to Zimbabwe to manage an equestrian center there. "The whole experience made me more appreciative of the highs in my life. It makes you work really hard for them."
Hard work pays off and Hoad encountered that first hand at the Sunshine Tour CDI. She was definitely on cloud nine after 'winning' a second place in the Intermediaire I kur. "It was the most wonderful achievement in my life so far. They should rename the Sunshine Tour into the Champagne Tour," Hoad joked.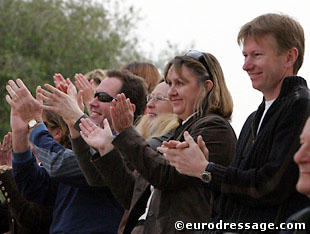 Even though Hoad has tasted CDI glory in Spain, she remains level-headed about her dreams and future endeavours. In five years, she sees herself a more skilled and seasoned rider. "I hope I will have been successful with both horses internationally, but my main goal is to have fun with the sport, to achieve a reasonable amount of success and basically to enjoy it and cherish it with my husband and friends."
Text and Photos copyrighted Astrid Appels/Eurodressage - No reproduction allowed without permission