Oldenburg Breeding News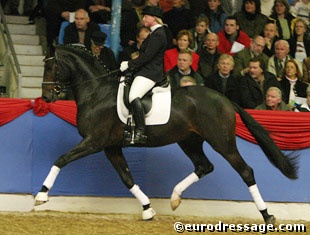 The 2004 Althengst Parade, which followed the Oldenburg Stallion Licensing on Saturday November 27, 2004, was a six-hour Oldenburg delight. The amount of Oldenburg and Oldenburg approved stallions that were brought into the ring was massive and impressive.
Though the quality of the horses was not always high, several highlights stood out and breeders were able to make their stallion choice for 2004
Opening the Althengst Parade were the premium stallions of the 2004 licensing, followed by the champions of the 2003 licensing, Don Kennedy (Donnerhall x Kennedy) and Rubin Cortes (Rubin Royal x Calmiro). Both horses are very different in type and movement. Ridden by Anja Engelbart, Don Kennedy still looked youthful and green, but the dark bay showed some super engagement in the extended trot work. His walk is also superior.
Rubin Cortes is the spitting image of his sire Rubin Royal. He's a nicely modeled horse, but when ridden he gets short in the neck and tense in the body. His movement is extravagant. Just like his sire, Rubin Cortes is able to flex his hocks up as if they are hinges on a door. The hind legs almost hit the belly of the horse. Such movement is of course very interesting for breeding him to a stiffer, limited moving mare, but as a dressage horse one wonders if such a horse is able to collect when he moves up the levels.
R-line Stallions, From Apex to Nadir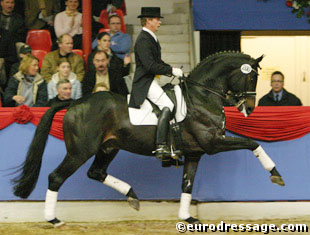 What was for some the highlight horse of the evening, was considered to others an absolute dressage disaster. Rubin Royal (Rohdiamant x Grundstein II), the 2001 Hauptpremium Winner of Oldenburg, has become legendary for his unlimited trot. At the Althengst Parade, Rubin Royal was once again so extravagant and impressive in his trot by throwing his legs at the sky, his hind legs almost touching the girth. It is unbelievable to see this horse move. That is also why so many people were gasping for air when they saw this star horse move. From a dressage perspective, Rubin Royal was tense, very short in the neck, he didn't show a walk at all and lost rhythm regularly in his trot work. The Prix St Georges movements he showed were not always correct.
Of course, one has to take into consideration that the atmosphere at such an althengst parade is very electric and some horses blow their fuses at such parades. This can be said of experienced dressage horses such as Rubin Royal, who just became overcooked, and it can be said of youngsters such as Rubinero (Rubinstein x Ex Libris), who froze up and could not be presented properly by Lisa Wilcox. Same case with Roadster (Rohdiamant x Furioso II). We all remember last year when he threw Wilcox out of the saddle; this year Roadster tried to do it again, bucking a little bit and jumping on the spot. Wilcox kept her cool, tried to ride the horse in shoulder in to focus him on his work again, but the ship has sunk and Roadster was not his usual self. Fortunately, Wilcox had her highlight on Royal Diamond (Rubinstein x Inschallah AA). This dapple gray sire, who's an experienced Grand Prix horse, is "crowdproof" and stayed calm and collected. It was Wilcox' final public ride on a Vorwerk stallion, already having said goodbye to her German audience on Relevant at the CDI Oldenburg. Wilcox will be working in Switzerland from January 2005 onwards.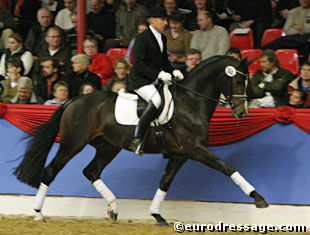 The R-line stallions, presented at the 2004 Althengst Parade, had their ups and down. One of them who definitely showed major improvement since his last outing was Rosentanz, the Danish owned Rohdiamant x Sao Paulo. Scoring 9s and 10s for his super canter and walk, Rosentanz' weaker point until now has been his trot. At the Althengst Parade, we finally saw Rosentanz really engage from behind, giving us a little taste of what's in store for the future. Rosentanz was presented together with two other 3-year olds, De Kuyper (De Niro x Figaro) who was absolutely a disaster with his stiff, phlegmatic movements, and Don Chico (Donnerhall x Rubinstein) who moved alright but was a very transparent horse, not leaving a lasting impression -- at least not on me. However, it is important not to forget that these 3-year olds are actually babies and one can not expect them to move like thoroughly schooled dressage horses.
Grafenstolz TSF and Munchhausen TSF, Unexpected Stunners
Two horses that made a stunning impression at the Althengst Parade were the Trakehner stallions Grafenstolz TSF and Munchhausen TSF. The dark bay Grafenstolz TSF (by Polarion x Camelot x Arogno) is owned by Gestut Birkhof in the South of Germany, and has been one of the most successful German young horses of the year. Writing history by qualifying for the German Young Horse Championships in dressage, show jumping and eventing, Grafenstolz TSF won the Eventing Bundeschampionate and one month later added the title 2004 World Young Horse Eventing Champion to his list of achievements. This highly refined Trakehner has nice movements but could show more suppleness in his gaits. Nevertheless, this bay excels in his athleticism, easily taking 160 cm jumps over a Birkhof banner. Very impressive.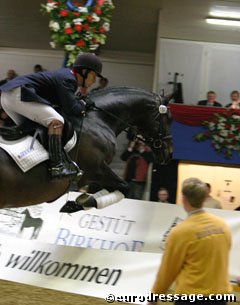 A nice surprise was Munchhausen TSF's performance under the Danish Fie Skarsoe. Munchhausen is a dazzling beauty, but so far he has not really convinced me with his hind legs. Not really stepping under the body, Munchhausen is a gorgeous front leg mover. Fortunately, at the Althengst Parade the bay Hohenstein x Konigstein x Arak offspring finally got his act together. Trained by Jan Bemelmans, Munchhausen has developed into a talented Grand Prix horse with a beautiful piaffe-passage tour and is finally taking more weight on the hindquarters.
Another Trakehner worth mentioning was Hofrat (Gribaldi x Guter Planet) who looked very promising under Holga Finken. Finken also got the best out of Dormello (Dream of Heidelberg x Freiherr). Dormello tends to be very stiff in the back and long in the neck, but under Finken, the liver chestnut loosened up, was nicely on the bit and showed some nice gaits.
Florencio, 2004 Hauptpremium Stallion
The 5-year old stallions qualified to win the Hauptpremium title were Connection (Carentino x Calvados), Donnerball (Donnerhall x Alabaster), Farewell III (Fidermark x Rosenkavalier), Royal Hit (Royal Dance x Ramino), Stedinger (Sandro Hit x Landadel) and Florencio (Florestan x Weltmeyer).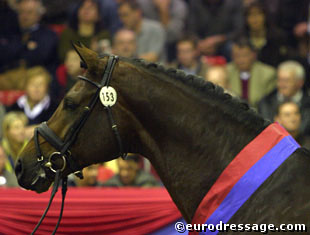 The Oldenburg Hauptpremium title is awarded to stallions approved for the Oldenburg Verband with the best conformation and gaits and the best quality offspring on the ground in the Oldenburg area. From the start it was sure that it would be a close call between the 2002 Licensing Champion Stedinger and the 2004 World Young Horse Champion Florencio.
The group of Hauptpremium stars were first presented under saddle. Dutch Hans Peter Minderhoud has some difficulties controlling his very frisky Florencio who was skipping and hopping around the arena, but whose supple gaits just beamed off this horse. The black Stedinger was presented by Martin Stamkotter. In training with Johan Hinnemann, Stedinger was not focused on his job in the ring and his rider Stamkotter was hardly able to get the horse through the neck and to make him move with swing in his back. Stamkotter sat crooked on the horse while looking down. Pity that the combination was not performing at its best, because Stedinger is definitely a quality horse.
The Oldenburg Stallion Licensing Committee chose the Westfalian bred Florencio as the winner of the the Hauptpremium title. Florencio's crop of foals in Oldenburg has been of excellent quality and many of the Florencio babies caught the top price at the Vechta foal auctions. This however, can be attributed to the fact that Florencio is the hype horse of the moment since he won the 2004 World Champion's title.
Sandro Hit Multiplicity: Ein Hit und Viele Voltreffer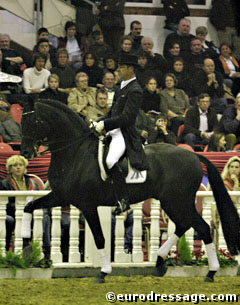 "Le Moment Supreme" of the 2004 Althengst Parade in Vechta was the appearance of the Sandro Hit offspring, concluded by a royal appearance of his grand majesty Sandro Hit.
One by one announcer Jan Toenjes welcomed the Sandro Hit progeny into the arena: Sagnol (Sandro Hit x Landadel), San Remo (Sandro Hit x Donnerhall), Show Star (Sandro Hit x Feinbrand), Smetana (Sunny Boy x Donnerschwee), Sir Wilson (Sandro Hit x Canaster) and Sandro King (Sandro Hit x Calypso I) appeared. It became a multiplicity of Sandro Hit babies. Hardly knowing where to look first and which horse to keep an eye on, this Sandro Hit parade was a surreal experience.
Definitely standing out in the crowd was Gestut Wiesenhof's Sandro King, a massive dark bay-blackish dressage horse with much length in his neck and back without being too long.
Those who claim that Sandro Hits can not do the FEI movements will be proved wrong in the future. Sandro King showed remarkable potential for the highest collection in trot and canter.
Worth mentioning is that rider Fie Skarsoe is one of the few riders in Germany (and the world) who has the "Lisa Wilcox diva glow" to her. Always smiling and shining on her horses, Skarsoe is an anchor figure for the promotion of the Wiesenhof stallions.
The 2004 Althengst Parade closed with a breath taking finale in which Sir Donnerhall (Sandro Hit x Donnerhall) and his sire Sandro Hit (Sandro Song x Ramino) appeared in the ring while dramatic church music playing.
Team P.S.I./Paul Schockemohle performed the same act in February 2004 on the Schockemohle Hengstvorfuhrung, where Sandro Hit and Poetin did a pas de deux.
Sir Donnerhall placed third in the premium ring at the 2003 Oldenburg Stallion Licensing, but he has become the most successful 3-year old breeding stallion for Oldenburg, covering more than 500 mares last year. In Vechta, Sir Donnerhall was only in the spotlight for five minutes, because as soon as Sandro Hit entered the ring, all eyes turned to this grand foundation sire His "little" son immediately fell into Sandro Hit's shade.
Sandro Hit's appearance at the Vechta Althengst Parade was the cherry on the cake. Since the black stallion's major 1999 world break through -- winning the World Young Horse Championships and the Bundeschampionate -- the black was hardly seen in public. In 2000 he won a couple of M-level classes, but that was it. From then on, Sandro Hit's life only meant one thing: breeding.
When you visit Paul Schockemohle's barn in Muhlen, Germany, you will find Sandro Hit covered in a layer of dust in a dirty stall in a dirty, dusty stable standing there with twenty other world class breeding stallions. Talk about an anti-climax. This king deserves a royal box, airy and spacey, layered with gold.
Fortunately, Sandro Hit's rider Dr. Ulf Möller brought the best out him again. The stallion looked shiny and fit and it was a true joy to see this lovely star in the show ring once again, bringing back memories of the glorious days in Arnhem, where Sandro Hit stole the hearts of crowd by winning the World Championships.
Text and Images copyrighted Astrid Appels/Eurodressage. No reproduction Allowed
Related Link
Furst Heinrich Fledglings Fly High at 2004 Oldenburg Stallion Licensing