German Dressage News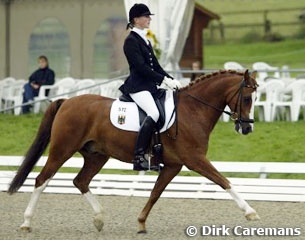 Konrad, the second most successful FEI dressage pony in history besides Dressmann, has a new rider for the 2005 show season. Sanneke Rothenberger, daughter of the famous dressage couple Sven and Gonnelien Rothenberger, will be riding this renowned Weser Ems chestnut gelding by Constantin x Lungau at FEI pony level.
"Our daughter Sanneke will be riding Konrad and Domino Dancing at shows," Sven Rothenberger said. Though both her parents have the Dutch nationality, Sanneke will be riding for Germany. "We live in Bad Homburg, near Frankfurt. Just like last year, Sanneke will be competing for Germany next year," Sven explained.
Konrad's list of achievement is phenomenal. The 14-year old pony won the 1997 European Pony Championships in Hartpury, England, under his first FEI rider Nikolas Kroncke. He then went on to compete under Kira Kroncke (1999 European Pony Champion, 2000 team gold  and individual bronze medallist), Annika Fiege (2002 European Silver medallist) and Patricia Hohn (2003 European individual Silver medallist, 2003 German National Champion, 2004 European individual bronze medallist).
Sanneke Rothenberger's other FEI pony is Domino Dancing, a licensed breeding stallion by Derano Gold x Dancer. This pony was previously campaigned at CDI's by Alice Fengels.
Image copyrighted: Dirk Caremans
Related Links
Rothenberger's Dornika Supreme in Warendorf
Patricia Hohn and Konrad Find Silver Lining 
Silver Medal for Annika Fiege and Konrad