2004 Bundeschampionate - Qualifiers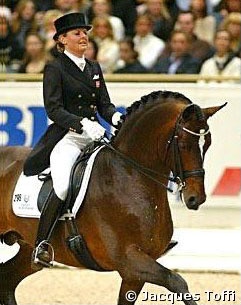 The final Bundeschampionate qualifier in Rhineland coincided with the Rhinelander Championships for FEI dressage riders. In the Bundeschampionate qualifying classes two riders distinguished themselves: Fie Skarsoe and Heiner Schiergen.
In the five-year old division, the Danish native Fie Skarsoe rode her Rhinelander registred chestnut mare Media Luna (by Munchhausen x Karon) to victory with an 8.7 score. They were followed in the ranking by Katja Camp on Furst Fabia, a Bundeschampionate routinier. Furst Fabio, a Rhinelander stallion by Fidermark x Worldchamp, scored 8.5. In third position were Ramona Strucken and Donnerlord, a Westfalian stallion by Donnerbube x Lord.
In the six-year old division, Heiner Schiergen and Faberge H, a Hessian stallion by Fidermark, were the strongest pair with an 8.5 score. They beat Bernd Nothen on the Hanoverian gelding Waikato (Weltmeyer x Airport). Marion Schleypen and For Joy (by Fabriano) ranked third but did not qualify for Warendorf with their 7.5 mark.
Image copyrighted: Jacques Toffi - No Reproduction Allowed!
5-year old Dressage Horse BuCha Qualifier
1. Fie Skarsoe - Media Luna - 8.7
2. Katja Camp - Furst Fabio - 8.5
3. Ramona Strucken - Donnerlord - 8.2
4. Martin Sander - Elini - 7.3
5. Johan Zagers - Rolls Roys - 7.2
6. Karin Hesse - First Smile H - 7.0
7. Simone Schroder - Golden Sun S - 6.7
8. Nadine Botthscer - Winock B - 6.3
8. Sascha Schulz - Feodora - 6.3
10. Theo Molderings - Performence M - 6.0
11. Katrhin Nothofer - Romolus - 5.8
6-year old Dressage Horse BuCha Qualifier
1. Heiner Schiergen - Faberge H - 8.5
2. Bernd Nothen - Waikato - 8.0
3. Marion Schleypen - For Joy - 7.5
4. Susanne Ruben - Dupre - 7.3
5. Marc Rose - Faun - 7.0
6. Rudolf Weidtmann - Charmeur E - 6.9
7. Alexandra Mumm - Rio di San Agostini - 6.8
8. Stefanie Friess - Wolkenfroh - 6.6
9. Anke Unger - What Joy - 6.5
10. Carmen Koop - Lancer's Lady - 6.1
10. Sarah Kühnen - Royal Angel - 6.1
12. Tanja Krause - Pikatchu H - 6.0
13. Paul Swaegers - Beau Renard - 5.8
14. Christian Gesing - Weizenjunge - 5.4
Back to the 2004 Bundeschampionate Index