2004 Bundeschampionate - Qualifiers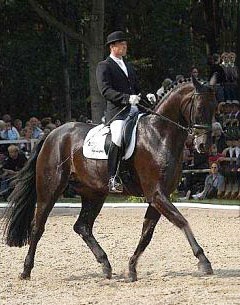 Professional dressage rider Uwe Schwanz has dominated the Bavarian Bundeschampionate qualifier in Weiden the weekend of June 11-13, 2004.
Aboard Florestano and Rockbarton he claimed first and second place in the 5-year old division, qualifying both horses for Warendorf as he scored 8.2 and 8.0. He won the class with Florestano, a Westfalian Florestan offspring and placed second with Rockbarton, a Bavarian bred Rivero II son.
In the six-year old division no horse scored higher than 8.0, so none of the riders qualified for the Bundeschampionate. The winner of the class, however, was Alix Denkhaus on Count Bassie, a Baden Wurttemberger Calido son. The combination scored 7.5
Photo copyright: Photec
5-year old Dressage Horse BuCha Qualifier
1. Uwe Schwanz - Florestano - 8.2
2. Uwe Schwanz - Rockbarton - 8.0
3. Michaela Beer - Indira - 7.5
4. Christine Kaltenbock - Racine - 6.9
5. Matthias Kempkes - Anabella - 6.5
6-year old Dressage Horse BuCha Qualifier
1. Alix Denkhaus - Count Basie - 7.5
2. Michael Bucherl - D'Artagnon - 7.3
3. Heike Ingebrand - El Fantadu - 7.0
4. Angela Hergeth - Transpofix For Ever - 6.7
5. Kathrin Gerber - Fidaro - 6.5
6. Markus Becker - Rosenborg - 6.0
Back to the 2004 Bundeschampionate Index