2004 Olympic Games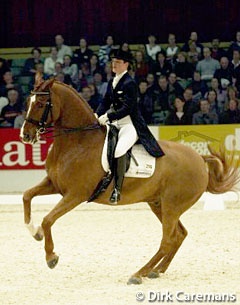 The German Olympic Equestrian Committee (DOKR) has announced the Olympic Short List from which eventually five riders will be picked to represent Germany at the 2004 Olympic Games in Athens.
The short listed riders are: Ulla Salzgeber, Isabell Werth, Heike Kemmer, Ann Kathrin Linsenhoff, Klaus Husenbeth, Martin Schaudt, Hubertus Schmidt and Ellen Schulten Baumer.
Remarkably not included in the list is 2002 World Champion Nadine Capellmann. She was unable to show her horse Farbenfroh in good shape this 2004 show season. After the WEG in Jerez, Farbenfroh has been injured for one and a half year. He returned to the show ring at the CDI Norten Hardenberg in May, but he only finished 10th there after to a tension filled ride.
The German Olympic Dressage Teame will be announced after two more selection trials: the German Dressage Championships in Balve June 10-12 and the CDIO Aachen July 13-18, 2004.
Image copyrighted: Dirk Caremans