2004 Olympic Games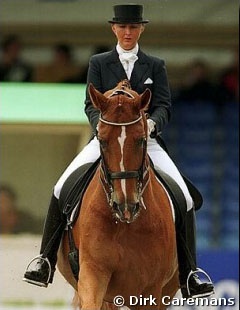 After the close of the FEI World Dressage Rider Rankings on 02 May 2004, the outlook for Australian Dressage representation at the Athens Olympic Games seemed less than rosy.
  Our top-ranked rider had missed out gaining the all-important third position by just 0.042 percent. However, due to a vacancy in another Olympic qualifying route, Australia has been offered a position as a result of the good world ranking positions.
EFA CEO Franz Venhaus commented: "This is absolutely marvellous news and means that Australia will be represented in all three disciplines in the Equestrian events at Athens."
It is still possible to get a second Dressage entry at the Games, however it is not clear how other nations like Australia, France and Russia, which have qualified for a single individual entry so far, may be able to take advantage of their ranking on the World List.  The FEI will advise by 15 June whether additional places are available however two other deadlines exist for Australia to gain a second position (30 June and 21 July).
With different methods used for determining replacements, Australia's chance will depend on which nations do not accept their position. Therefore, we may not know until as late as 21 July if we have gained a second position.
Australian Selectors will now face the difficult task of deciding who will take the individual spot (or possibly two) at the Olympic Games. The top three world-ranked riders for Australia are Ricky MacMillan, Mary Hanna and Germany-based Kristy Oatley-Nist.
For further details, call (numbers not for publication): Gareth McKeen, High Performance Manager, 0409 854 565 Joanne Fowler, Chair of National Selectors, 0408 878 817.
Image copyrighted: Dirk Caremans