2004 CDI Sydney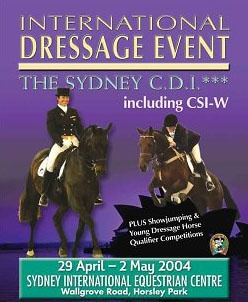 The following are the points of interest following the Advanced Freestyle to Music event on Saturday at the Sydney CDI*** International. 


* Lesley Ann Taylor captured the audience, as well as the judges attention in the Advanced Freestyle to Music, with a winning score of 70.156 percent aboard her imported black gelding Weltklasse. 

"I'm thrilled with him" she commented. "The music was a little faster than i had thought at the beginning, so i was a bit worried, but I'm very happy with him, he's just such a divine character." 

* Second place was awarded to the very elegant, Neversfelde Feuer. Feuer's rider, Maurice Bruce, rode a dazzling test, with only a small disobedience from Feuer when a gust of wind disturbed the yellow ribbon surrounding the arena. A very respectable score of 66.82 percent placed them just one percent higher than third place getter Sally Evans on A'Seduction. 

With a score of 65.72%, Sally and her mount, the bay stallion A'Seduction, completed a very entertaining test. A'Seduction is still quite green at this level, so Sally was excited with his performance. "I was so pleased with him, because he has not been under this type of atmosphere before," she said. 

* Fourth place was awarded to Kerry Mack, aboard her imported stallion Mayfield Pzazz. There were some differences in the judges marks in Kerry's test, but overall, a score of 64.74% ensured a happy combination. 

Mack was pleased with Pzazz's test, acknowledging his inexperience at this level, as well as her own. "I've just learnt to ride at this level, and I am still learning how to set up the movements, especially the pirouettes." 

* New South Wales rider Verity Spargo rode the 16-hand warmblood gelding APH Faust into fifth position with 63.85 percent followed closely by Sally Dowsett aboard Argentille Bonita with 63.69 percent. 

* Just 0.52 percent separated seventh and eighth place, with Emperor Charlemagne and Kate Foundas edging out Danielle Vasella and Northern Xanthus II for seventh spot.
Kerry Mack fourth but pleased with Mayfield Pzazz
Victorian-based rider Kerry Mack only entered Mayfield Pzazz as an afterthought, but ended up being in contention for a top placing in the  Advanced Freestyle to Music event at Sydney International Equestrian Centre. They eventually finished in fourth place, though for a while there were better hopes.
A 67.24 percent score saw Mack take out the Advanced 5.3 competition, but a mistake during the Advanced 5.4 event forced her into a second placing behind South Australian combination, Lesley-Anne Taylor and German-bred gelding, Weltklasse.
"On the second (placing in the Advanced 5:4), I mucked up one of the pirouettes and that was very costly," she said. Following the Freestyle to Music though, Mack and Mayfield Pzazz finished in fourth position with 64.74 percent. Friday's rivals, Taylor and Weltklasse took the event with 70.12 percent with the Maurice Bruce/Neversfelde Feuer and Sally Evans/A'Seduction combinations taking second and third respectively.
Despite the disappointing final result, Mack was still excited with her six-year-old stallion's efforts in higher company. "I was pleased because that was the first time he (Mayfield Pzazz) had to compete indoors since 'Dressage With the Stars'," she said.
"They had an applause meter there and it (the crowd) was really loud. It freaked him out. The only other time I have had him indoors since, he was really tense so I was not sure that he'd be OK." "I'm rapt.
We came from Melbourne mainly to watch my other stallion (Whisper IV) and we thought we'd just bring him (Mayfield Pzazz) along for the experience and it has been fantastic. He has gone out and he has been really consistent in a strange area."
Arena Atmosphere a New Experience for A'Seduction
New South Wales rider Sally Evans was suitably impressed with the efforts of bay stallion A'Seduction after their test in Saturday's Advanced Freestyle by Music competition at the Sydney CDI*** International. 

"I was really happy with him because he has not been under that type of atmosphere before, with it (the arena) being indoors, with the crowd and the noise." 

"I probably missed a couple of things in there, but the judges will probably not notice because it's a Freestyle competition," she said with a laugh. 

A'Seduction did stumble slightly during the routine, but Evans was sure "it didn't really show up ... the test flowed quite nicely." 

After a good showing in the qualifying Advanced Cup Tournament on Friday, she was anticipating a good finish in the Freestyle by Music competition. 

"We placed third in the advanced yesterday and hopefully we place in this one because it is his (A'Seduction's) first big competition at advanced level ... I would be hoping to finish in the top placings."